The realm of luxury kitchens has become more vibrant than ever, showcasing a blend of aesthetics, functionality, and opulence. Incorporating a wet bar into your design presents an opportunity to elevate your kitchen's look while offering a dedicated space for entertainment. An article recently shared some fascinating wet bar ideas. As experts in the field of custom cabinets, Lancaster Customs would like to provide some insights and observations on these suggestions. (Source: The Spruce, 17 Wet Bar Ideas for the Home, Ashley Knierim, October 5, 2021, https://www.thespruce.com/wet-bar-ideas-5181448 ).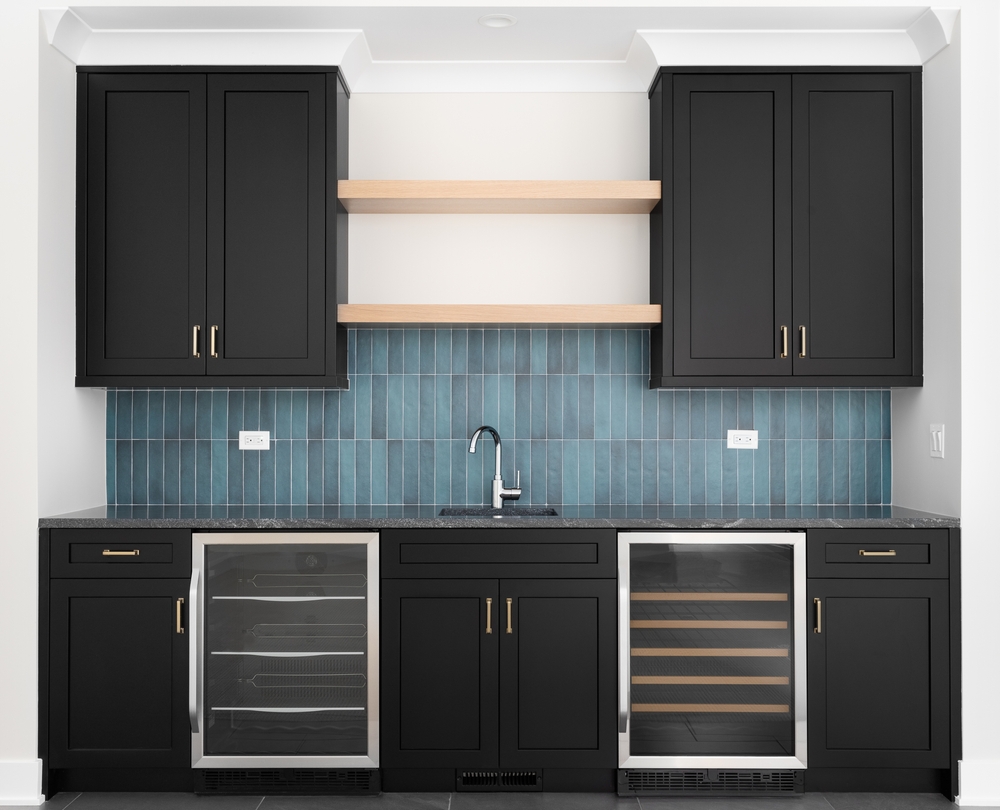 Paint it green: The article encourages homeowners to embrace the beauty of the colour green for their wet bar. "Lancaster Customs appreciates this fresh, vibrant choice. However, when considering custom cabinets, the durability and quality of the paint finish are crucial. Opt for high-quality, moisture-resistant paints to ensure longevity."
Hang a shelf: Storage is a significant consideration in any luxury kitchen. The article proposes hanging a shelf for additional storage space. "This can indeed be a functional and aesthetically pleasing addition. Moreover, with custom wine racks built into these shelves, homeowners can display their wine collection elegantly."
Opt for glass: The use of glass doors for your custom cabinets can add an element of sophistication. Lancaster Customs states, "Glass-front cabinets can showcase your prized glassware or wine collection. However, ensure the glass is durable and treated to resist moisture and scratches."
Install a rolling ladder: The article suggests this for high custom cabinets. "Lancaster Customs finds this idea practical and charming. It adds a touch of vintage luxury to the kitchen while providing access to high cabinets."
Add a graphic backsplash: A vibrant backsplash can bring your wet bar to life. Lancaster Customs comments, "A graphic backsplash can be the focal point of your wet bar, but consider its harmony with the custom cabinets and overall kitchen style."
Go for marble: Marble countertops for the wet bar are both luxurious and durable. "Marble is an excellent choice for a lavish look. Nonetheless, it requires proper maintenance to prevent stains and etching," observes Lancaster Customs.
Keep it traditional: While modern designs have their charm, traditional style can offer timeless elegance. "Traditional custom cabinets with intricate woodworking can bring a sense of history and craftsmanship to your wet bar," suggests Lancaster Customs.
Get the lighting right: Lighting plays a crucial role in setting the right mood. "Consider under-cabinet lighting for functionality and over-cabinet lights for creating an inviting ambiance," recommends Lancaster Customs.
Go big in the basement: The article encourages a larger bar set up in the basement. Lancaster Customs notes, "A spacious wet bar in the basement can serve as an excellent entertainment hub. Ensure your custom cabinets and wine racks are moisture-resistant to counter any potential dampness."
Opt for coffee: Having a coffee station in your wet bar or, instead of a wet bar, is a delightful addition. Lancaster Customs suggests, "Including a dedicated space for coffee in your custom cabinets design can cater to coffee lovers and provide a cozy touch to the wet bar."
Add a wet bar in the dining room: This idea merges dining and entertainment areas. "This integration is a great idea for smaller spaces. It allows for seamless serving during meals," states Lancaster Customs.
Try wallpaper: This can add a splash of pattern and colour to the wet bar area. Lancaster Customs advises, "Select moisture-resistant wallpaper to ensure longevity and maintenance ease."
DIY with a cabinet: While this approach seems creative and cost-effective, Lancaster Customs suggests, "For durability, longevity, and value addition to your home, it's best to consider professionally crafted custom cabinets."
Add a large piece of art: Artwork can personalize your wet bar. "Art can indeed make a bold statement. Just ensure it complements the overall aesthetic of your luxury kitchen," recommends Lancaster Customs.
Opt for a dry bar: A dry bar can serve as a great alternative when plumbing is a constraint. "Dry bars can be as luxurious and functional with well-designed custom cabinets and wine racks," comments Lancaster Customs.
Use your wall space: Maximizing wall space can provide extra storage. Lancaster Customs believes, "Custom cabinets that scale the wall can maximize storage while maintaining a clean, uncluttered look."
Try a bold tile: Using bold tiles can add character to your wet bar. Lancaster Customs says, "Bold tiles can be an exciting element. Pair them with minimalist custom cabinets to balance the look."
Remember, the key to a perfect wet bar lies in customization, attention to detail, and quality materials. As pioneers in luxury kitchens, Lancaster Customs is committed to bringing your dream wet bar to life with meticulously crafted custom cabinets and wine racks.