Are you working on remodeling fixtures around your home? With the day of love knocking on your door, what better opportunity do you need to accentuate the glamour quotient of your interiors? Upgrade your home with these luxe additions as a lovely Valentine's Day gift, and watch the never-ending smile on your partner's face!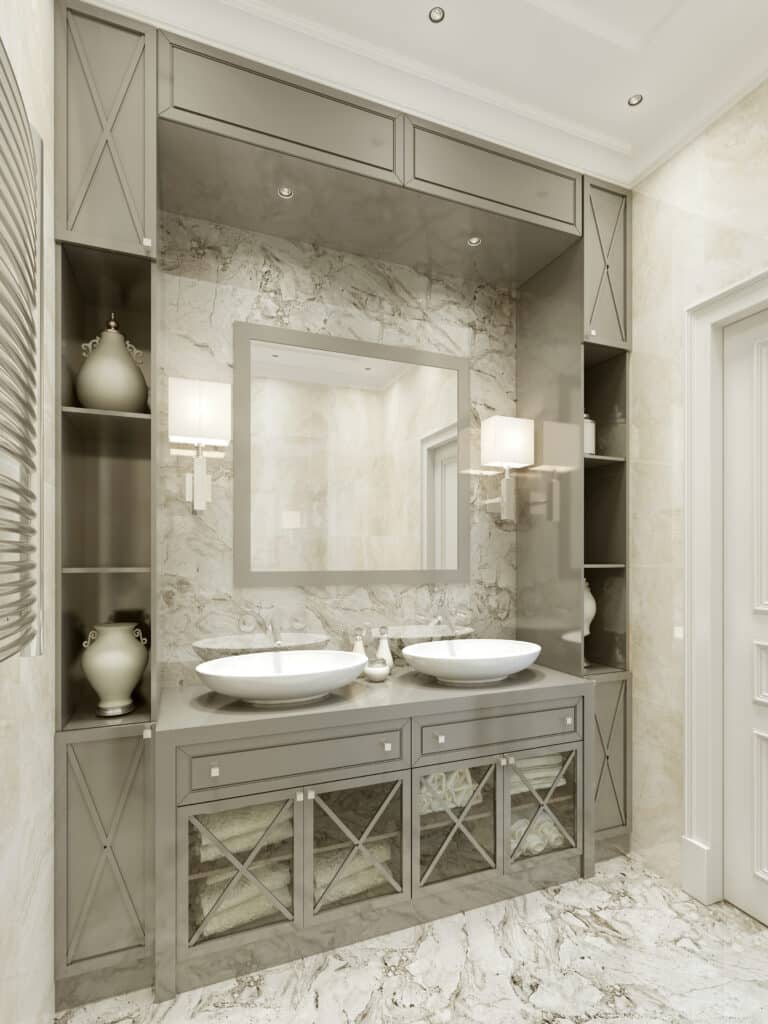 Vanities
Custom built-in vanities are crucial for a sophisticated closet design. You do not want your cosmetics and trinkets strewn all over the place! While customizing your vanity, you can experiment with materials and surface ornamentation such as monogramming, mirrors, and tailor-made shelves.
Make the best use of the space in a bathroom, guest room, master bedroom, and walk-in closet by installing a custom-built vanity. This is a great way to navigate around any weirdly shaped structures. Accessorize it by adding select tiles such as matte ceramic, porcelain backed, marble mosaics, and modern subway designs.
Selecting the right hardware for your vanity is crucial. Engage with a custom builder like us here at Lancaster Customs, as we are admired for our quality craftsmanship. With a collection of exceptional fittings in a variety of metallic finishes, you will surely find the ones that go perfectly with your vanity décor. Choose unique shapes of knobs that will make your cabinets stand out from regular store-bought ones.
Custom closets
A walk-in closet or custom-designed closet space screams luxury! It enhances the beauty of the house, makes optimal use of space, and allows you to add customized storage solutions.
A full-length mirror is a must-have feature in a walk-in closet. 3-way mirrors are even better, as you and your partner can see how you look from all angles while decking up for your Valentine's Day gala! You can fill it with floral bouquets to pleasantly surprise your partner when you are giving them a tour of the upgrades.
You can further raise the glam quotient of your closet design by adding sophisticated accessories. Classic combinations of glass shelving, metallic accents, and marble fittings never go out of style. They will ensure your cabinet design is on-point until your next renovation. You could also play with bold colors, interesting wallpaper prints, and faux fur benches to romanticize the space.
Custom Wine Cabinet
Designing custom cabinets for housing your wine collection gives you the flexibility you need. A wine cabinet not only increases the value of your property but also gives you a safe place to store your precious wine bottles. You surely do not want to pause your romantic dinner to climb on some ladder and hunt for the refill, right?
Choose the suitable material, grain, and texture of wood to get yourself a luxurious wine display. This could be a focal point of your interiors and a conversation starter when you have guests. Ensure to have corrosion-resistant, heavy-duty hardware with high-quality finishes.
Who does not revel in a luxurious set-up, especially while celebrating special occasions? Your partner will surely award you brownie points for the initiative. Make these customized additions around the house to set the perfect ambiance and celebrate the day of love in style!