Custom kitchen cabinets are the best way to make a statement in your kitchen. Their look and feel can be customized to your liking so that you can achieve that perfect fit for any space. Custom cabinet doors will also last much longer than standard factory-made models, which means more enjoyment for many years to come! Today's article will share information on the advantages of custom kitchen cabinets.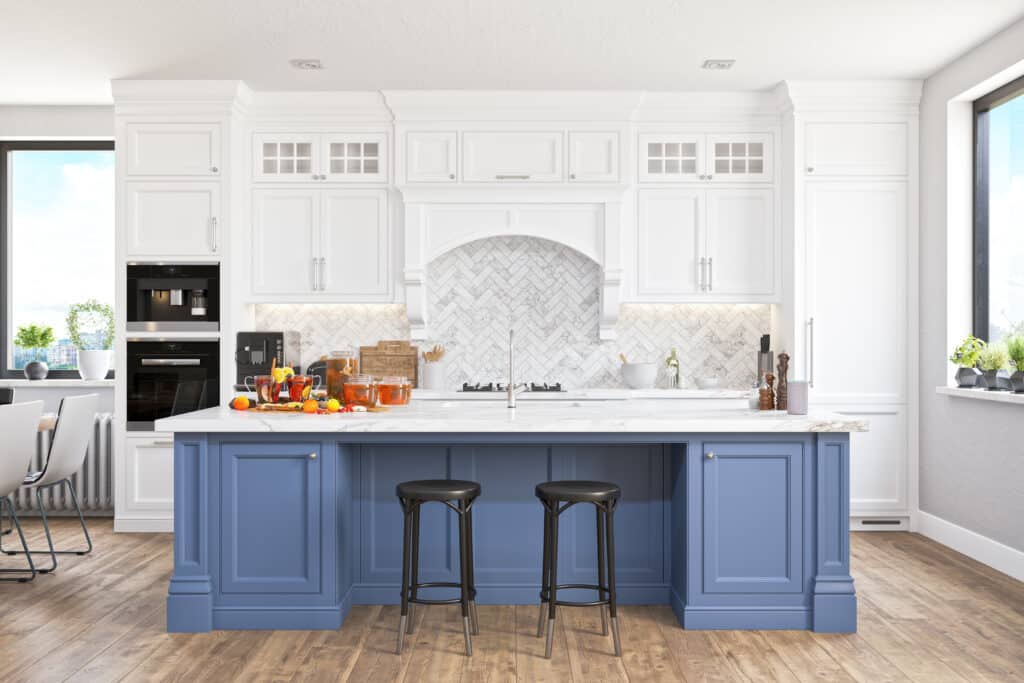 Custom kitchen cabinets vs. stock cabinets
Stock cabinets are made to a standard size, so the chances of customizing certain features are slim. Custom cabinets are made to your specifications and come in any size or shape you want.
Stock cabinets will be less expensive than custom ones because they're built according to their standard dimensions rather than based on individual customer needs and specifications. Therefore, it's essential to consider all factors, including a budget, before deciding.
Disadvantages of stock cabinets and semi-stock cabinets
Stock cabinets, like any other product, come with disadvantages. As mentioned previously, the most common one is that they are not customizable. If you want to change something in your stock cabinet—like adding shelves or changing out the drawers—you will have to pay an additional fee.
Stock cabinets are also less durable than custom cabinets because they're made from unfinished wood and particle board. This means that they are more susceptible to wear and damage. The kitchen is the most used area in a home; therefore, durability is essential.
Semi-stock cabinets are less durable, customizable, and aesthetically pleasing than custom kitchen cabinets. Semi-stock cabinet manufacturers bulk most of their products and ship them to the customers. Therefore, they do not have the same durability as custom kitchen cabinets. Also, they have limited kitchen design options.
Top 5 advantages of custom kitchen cabinets
Custom material choices
With custom cabinets, you have a wide range of material options. At Lancaster Customs, we use 3/4″ FSC wood, water-based finishes, and top-quality hardware in all of our custom cabinets. We recommend visiting our showroom; you can browse our extensive selection and brainstorm ideas for your project.
Flexibility and versatility when it comes to design
One of the exciting advantages of Custom kitchen cabinets is that they are made to your specific needs. Custom cabinets are made to fit in any space, large or small scale appliances, and can be designed to suit any color scheme. Custom cabinets can also be made from various materials, including solid wood and laminate, with a high-quality veneer finish. The choice of material will depend on your specific requirements.
Built to last – exceptional quality material and quality craftsmanship
The materials used in crafting custom cabinets are selected based on the individual need of the project. Custom kitchen cabinets are not a "one-size fits all" approach. The craftsmanship and quality of artistry will last for many years. Custom cabinets are built with high-quality materials that ensure durability.
More storage options and solutions to suit the homeowners' needs
Custom cabinets are an excellent option for homeowners who want more storage options and solutions. They are made to fit any size or shape, allowing you to customize them according to your specific needs. They also work well in contemporary kitchens and traditional styles, making them a versatile choice for all homes.
When choosing custom kitchen cabinets, consider the following:
Style of the home and kitchen
The style of your home and the kitchen are essential factors to consider when choosing custom kitchen cabinets. If you have a modern aesthetic, consider incorporating glass for the cabinet doors. If you have an older house, then it's probably a good idea to stick with wood or another traditional material like maple or oak. Take note of the various characteristics and unique qualities of the home. Traditionally, many tend to want the overall aesthetic to look uniform or complementary. Unless the project calls for something eclectic, then go wild! If the project calls for an eclectic charm, consider pops of colour, various textures, and open shelving. Get creative with kitchen cabinet handles or hardware for a finishing touch.
Functionality and practicality
When it comes to functionality and practicality, there are a few things to consider. Placement, size, and unique features play a crucial role.
When choosing custom kitchen cabinets, consider how much storage space is needed. Suppose the homeowner is a culinary enthusiast, features such as a slide-out spice rack, built-in utensil caddy, or lifts and cubbies for small appliances may be the priority.
Hardware
Another important thing is choosing what kind of hardware should be installed in each piece. There are many options to take into consideration—for example, knobs or pulls. This will depend on the homeowner's lifestyle, keeping in mind which handles are most comfortable and easy for them to access—simultaneously maintaining aesthetics and complementing the cabinets.
Colour, texture, and material
With custom kitchen cabinets, you will have no shortage of options in terms of colours, textures, and materials. Sketch out various designs, and keep an eye out for inspiration.
It is recommended to pay close attention to the kitchen style and décor scheme while considering the design theme of the entire home.
The custom kitchen cabinets you choose will be a long-term investment. They must be built from the best materials, have the flexibility and versatility you need, and be built to last. We welcome all homeowners, builders, and interior designers to contact us here at Lancaster Customs. Our experts will share their knowledge and offer a selection of high-quality materials. Together, we can bring your creative vision to life.