With St. Patrick's Day around the corner, are you planning a party at your place? Are you looking for tips on how you can make your party memorable? Well, here is how you can wow your guests with custom cabinets, built-in bars, and unique décor.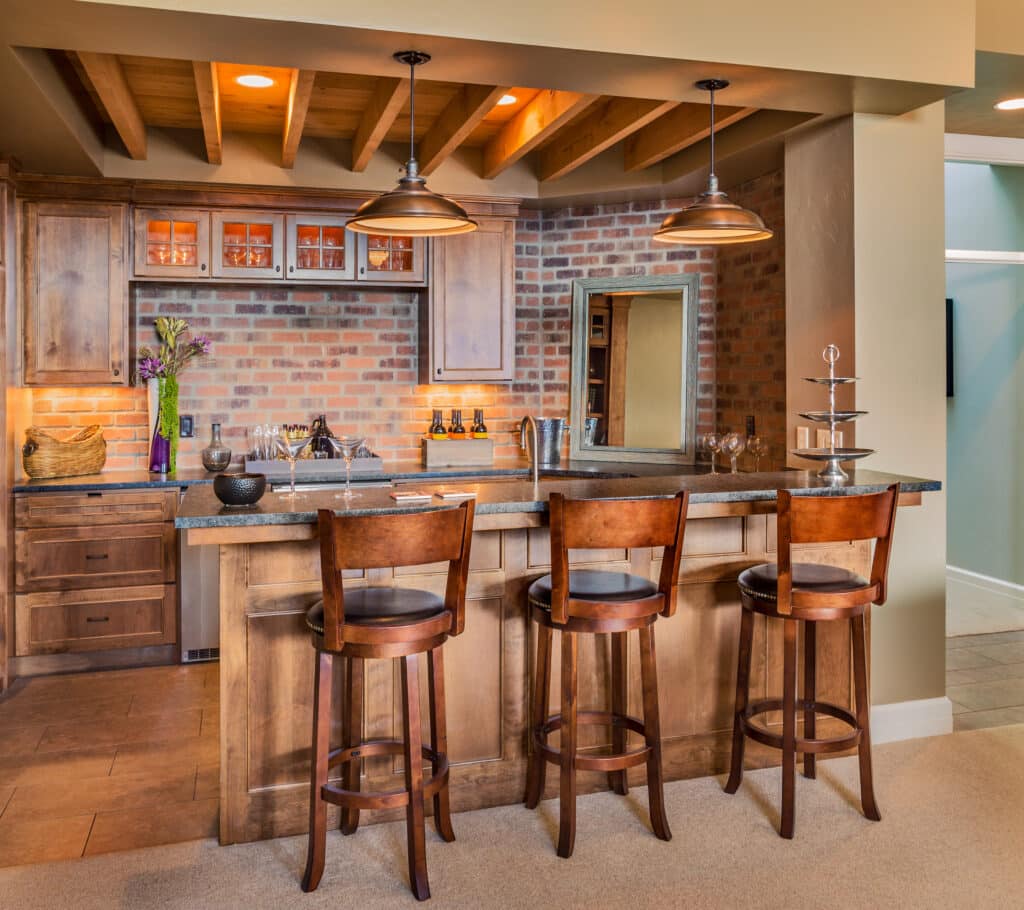 Custom cabinets, wine cabinets, and built-in bars
Customized cabinetry allows you to incorporate bars, wine cabinets, and shelves tailor-made for your requirement. Custom cabinets can enhance the aesthetics of your home. They can fit into any area of the house, seamlessly merge with the décor, and have any number of functional features you desire.
While building a custom wine cabinet, you can add unique features. This will help you keep your collection safe and act as a masterpiece for your entertainment needs.
Built-in bars can be broadly categorized into wet bars and dry bars. A wet bar is one that typically includes a sink and plumbing, allowing for the preparation of drinks and the cleaning of glasses and utensils. This type of bar could be a part of your kitchen design. It could also be located near your dining room or living room and is designed to be a convenient place for mixing and serving beverages. In addition to a sink, a wet bar may also include a refrigerator, ice maker, and other appliances to make it a fully functional area for entertaining.
A dry bar, on the other hand, does not have a sink or plumbing. It is a cabinet or piece of furniture that is used to store and display bottles, glasses, and other bar accessories. While it may not have the same functionality as a wet bar, a dry bar can still be a stylish and practical addition to a home. It helps to provide a convenient place to store and access drinks and barware. Dry bars can come in a variety of sizes and styles, ranging from small cabinets to larger pieces of furniture that can take up an entire wall.
Have fun with bar carts
Bar carts can act as wonderful accessories! Traditionally they are used to mix liquors, but they can be used as a serving cart, coffee, or tea station. It could also be used as a part of the home décor by showcasing some lovely plants or unique collectibles you may have picked up from around the world. Let your imagination run rampant with quirky ideas that can help you have fun with bar carts.
Play with greens and golds
Staying true to the theme, you can imbibe greens and gold into the décor of your kitchen design. Green represents the colour of nature and symbolizes growth. The energy of green enhances wealth and prosperity. Combine this with the royal gold colour, and you are all set for a timeless-looking interior.
You could use the colours as the focal point or as accents to play with the contrast between them. For your party, pick up some green glassware and show them off on the shelves of your custom wine cabinet!
Suppose you are looking to enhance your kitchen design by adding a custom wine cabinet for your St. Patrick's Day bash; we hope you got some great inspiration from today's article! The customization and attention to detail that goes into building custom cabinets make them more sophisticated. They are a premium option for homeowners who want a truly unique and high-end look for their space.