Today we dive into the concept of a dream closet and provide you with some transformative closet design ideas. Whether you are a custom home builder, an architect, or an interior designer, the insights shared in this piece, drawn from an article presented by The Spruce and enriched with Lancaster Customs' expert commentary, will undoubtedly offer a unique perspective on closet organization. (Source: The Spruce, 10 Ideas for Designing the Closet of Your Dreams, Ashley Knierim, July 31, 2022, https://www.thespruce.com/custom-closet-designs-5089127 ).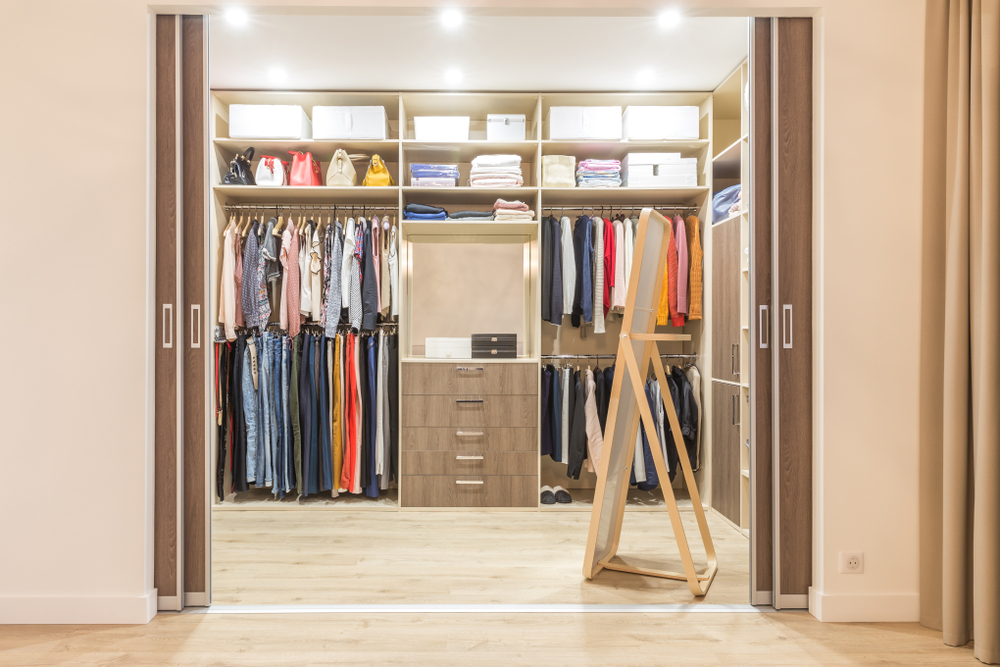 Create a Place for Shoes
The article emphasizes on designating a space specifically for shoes within your walk-in closet. This dedicated space not only aids in efficient closet organization but also preserves the condition of your footwear.
Commenting on this idea, Lancaster Customs asserts, "Creating a dedicated space for shoes, be it through custom shoe racks or sliding shelves, enhances the aesthetics of a walk-in closet. It also offers an efficient closet storage solution. This kind of consideration in design increases the functionality of the space and elevates the user experience."
Add Space in a Standard Closet
The article suggests the addition of more storage space in a standard closet to make it more functional and organized.
Lancaster Customs adds, "Even in standard closets, there are countless opportunities for maximizing space. Introducing custom closet organizers, like built-in shelves, drawers, or additional rods, can significantly increase the closet's storage capacity while maintaining a clean, organized appearance."
Consider Your Utility Room
According to Ashley Knierim, the utility room serves a greater purpose when organized. Although the utility room or closet is often neglected, it holds tremendous potential for innovative closet designs.
In response, Lancaster Customs remarks, "Utility rooms are versatile spaces that can be designed for multifunctionality. By introducing custom closet organization solutions, these rooms can be transformed into efficient storage spaces or even a secondary walk-in closet."
Create a Place for Accessories
Ashley Knierim's article recommends dedicating a space for accessories in the walk-in closet, enhancing both aesthetics and organization.
Lancaster Customs weighs in, "We believe that accessories, like jewelry, watches, and ties, deserve their own space in a walk-in closet. For instance, custom drawers with dividers and velvet lining are excellent closet storage solutions that not only protect these items but also add an element of luxury to the closet design."
Makeover Your Nursery
Ashley Knierim suggests a nursery closet makeover to improve functionality and organization.
Lancaster Customs responds, "Nursery closets require careful planning and organization. Custom closet organizers such as open shelves, baskets, and adjustable rods can cater to changing needs as the child grows."
Re-do Your Craft Room Closet
Ashley Knierim urges readers to reconsider their craft room closets for optimal organization.
Lancaster Customs adds, "Craft room closets can greatly benefit from customized storage solutions. Different crafting materials require unique storage solutions, which is where custom closet organizers play a pivotal role."
Use Baskets
As Ashley Knierim pointed out, baskets are an excellent tool for closet organization.
Lancaster Customs agrees, stating, "Baskets are both practical and decorative elements that can be used effectively in any closet design. They come in many varieties to meet your specific storage needs."
Add Lighting
Ashley Knierim promotes the use of lighting in closets to brighten up the space and make it more functional.
Lancaster Customs comments, "We strongly advocate for strategic lighting in closet design. It not only enhances the closet's aesthetic appeal but also improves functionality by providing clear visibility."
Don't Forget the Drawers
Ashley Knierim stresses the importance of drawers in a well-organized closet.
In line with this, Lancaster Customs notes, "Drawers are essential components of any closet design. They provide a convenient storage solution that can be custom-built to accommodate various items, from clothing to accessories."
Add a Table
Finally, Ashley Knierim encourages the addition of a table in a walk-in closet.
Lancaster Customs remarks, "A table in a walk-in closet adds a touch of luxury and practicality. It's a noteworthy addition to any closet design, whether used for laying out the next day's outfit or simply as a space to place personal items."
Lancaster Customs underscores the transformative power of thoughtful, custom closet design in creating dream closets through this commentary. Closet organization and storage solutions are integral parts of a well-designed space, making every closet a functional and aesthetic asset regardless of its size or purpose.