As we move into 2023, one thing is clear. We want our homes to be safe spaces to reflect and nurture. After the height of the pandemic, interior design has taken a new direction, where we want to bring a bit of 'outside' inside. To do this, we are seeing an upsurge in earthy materials, sustainable furniture, and functional spaces. With the rising property costs, people want to mix style with functionality where every space in the home is optimized to be minimal, luxurious, yet usable.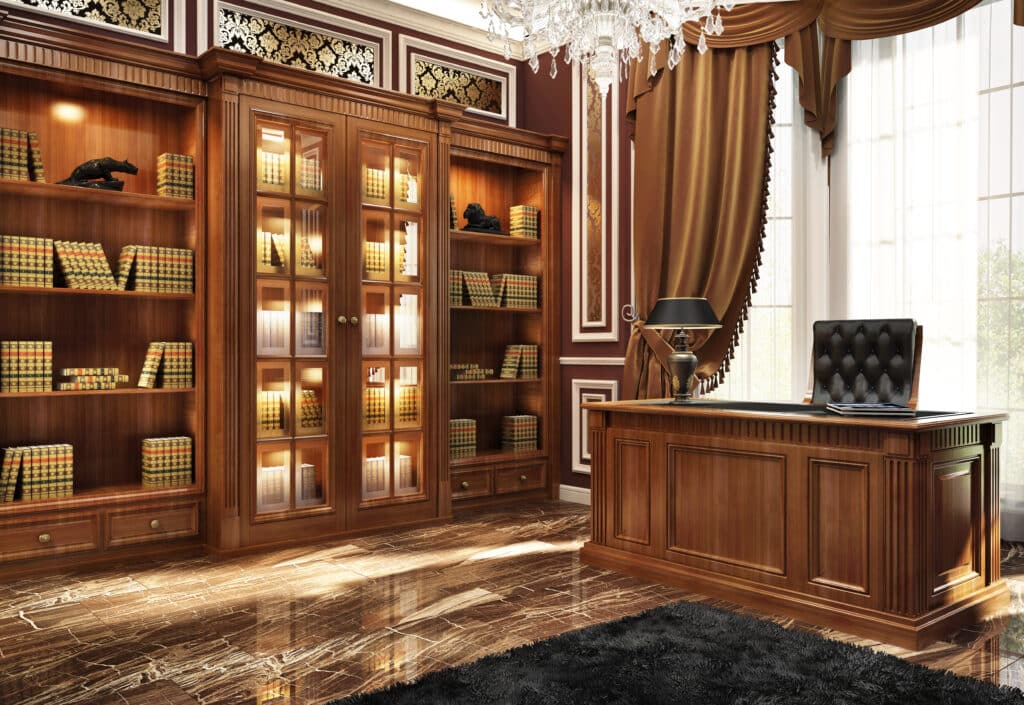 Luxury laundry rooms and mudrooms
Luxury laundry rooms and mudrooms are spaces that are designed with both function and style in mind. These types of rooms are often well-equipped with features such as custom cabinets, high-end appliances, and beautiful finishes that make them more comfortable and enjoyable to use. In a luxury laundry room, you might find features such as a sink or wash basin, plenty of storage space, a countertop for folding clothes, and a comfortable seating area.
A luxury mudroom might include features such as built-in lockers or storage benches and a place to hang coats and bags. A shower or bath area for washing off after outdoor activities may be possible. By incorporating these types of features into a mudroom, you can create a practical and stylish space. A useful room that looks aesthetic can add value and enjoyment to your home.
Laundry cabinets play a huge role in making sure you have both storage and style in a small area. A great rule of thumb is to avoid keeping any clothing on top of the cabinet. Instead, design a custom cabinet with more racks to keep your clothes and detergents. This will help you reduce clutter and maintain a polished look.
Natural materials and sophisticated kitchen cabinets
Using natural materials in combination with sophisticated kitchen cabinets can create a beautiful and cohesive look in your kitchen. Wood, clay, and stone, which are natural materials, can bring texture and warmth to a space. At the same time, sophisticated cabinets can add a touch of elegance and polish. Some of the ways you can incorporate natural materials and sophisticated cabinets into your kitchen design are mentioned below:
Use wood cabinets: Wood kitchen cabinets can be an excellent choice for adding warmth and texture to your kitchen. You can choose from a variety of wood species, such as oak, maple, or cherry. Finish the cabinets in a color that complements your kitchen's overall design.
Incorporate natural stone: Natural stones such as granite, marble, or quartz can add a touch of luxury to your kitchen. You can use natural stone for countertops, backsplashes, or even as a feature wall.
Add clay elements: Clay can be a beautiful and unique material to use in a kitchen. You can use clay tiles for backsplashes or opt for clay pots or other decorative elements.
Choose sophisticated cabinets: To add a touch of sophistication to your kitchen, consider choosing cabinets with clean lines and a high-end finish. Choose cabinets with a glossy finish or intricate details such as carved woodwork or glass inserts.
Bold Colours
Bold colours are a great way to invigorate your space. For the longest time, muted colors have been the norm in interior design. Muted design, though looks classy in some instances, has been long overdone. We now realize that bold colours add personality to your space, injecting lively energy. However, if not done well, it can turn tacky. An excellent way to ensure that doesn't happen is to do it in moderation. Instead of painting your wall electric pink, find a cabinet or laundry room cabinet in a funky color. This allows you to give your room some personality while maintaining elegance and a luxurious class.
Home office
With work-from-home being the new norm, converting your attic into a home office is becoming increasingly popular. You would be surprised by how easy it is. All you need is good ambient lighting for zoom calls, a powerful Wi-Fi router, a big wooden desk, and a comfortable chair. Make sure the walls are a muted colour so that your zoom calls appear professional. Also, opt for built-in cabinets in the room to keep all your work documents there for easy access. Such cabinets also allow you to separate your work and home space. You do not need to take any work-related documents outside the workspace.
Built-in storage
Built-in storage saves you floor space, which can be a huge plus if you have small kids or pets. This is a fantastic way to maximize your storage capacity while making sure your house looks seamless. Consider wooden paneled cabinets that compliment your wallpaper or paint. Or, you could also create quirky custom furniture and built-in cupboards to add more character to your room.
2023 will be all about coziness, comfort, functionality, and earth-oriented design. And one thing that can fulfill all those categories is a cabinet.
Cabinets are functional and earthy and can easily be customized to match the room's aesthetic. Hence, cabinetry can make or break your home environment depending on the kind of furniture you place. All in all, make sure you have fun while you renovate or decorate your space, and look beyond the trends. Decorate the dream home that YOU want.