Are you planning to add some high-end touches to your home and enhance its appeal? If yes, then implementing custom kitchen cabinets, walk-in closets, and custom cabinets can be a fantastic choice. These elements will not only make your home look stunning but will also increase its resale value.
This article will explore these three features that can help you add a high-end touch to your home. Read on!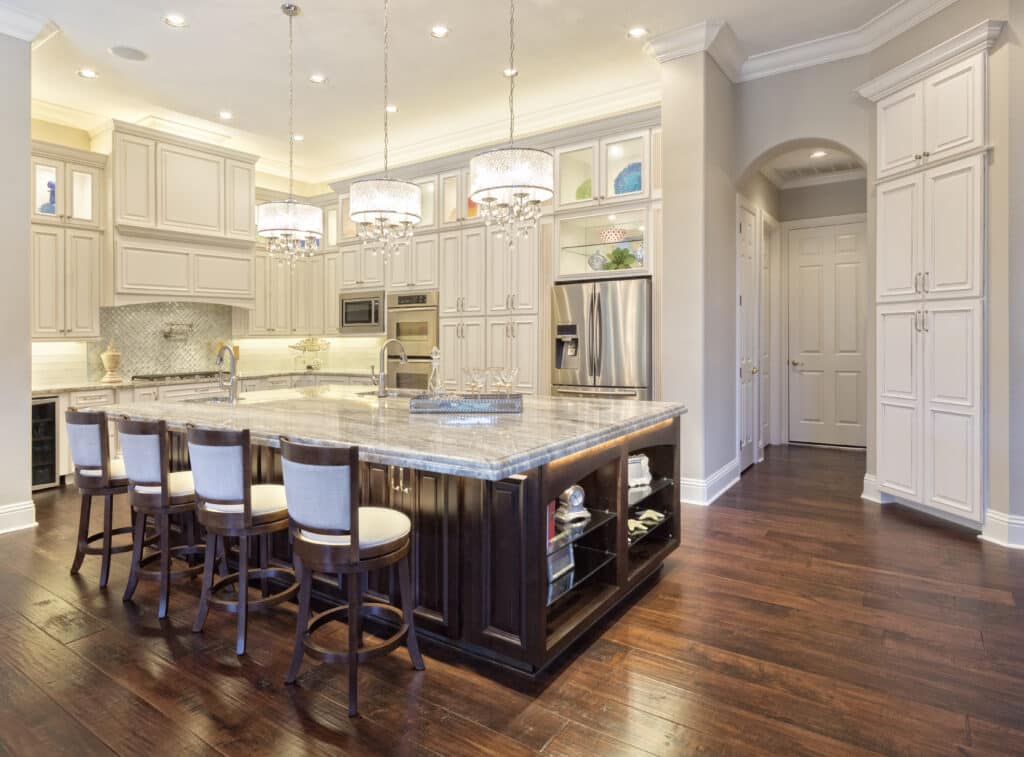 Custom kitchen cabinets
A luxury kitchen includes features like top-notch and premium countertops, cabinets, well-planned interiors, quality hardware, and advanced appliances. And so custom kitchen cabinets can be the perfect addition to your luxury kitchen.
If you still have stock cabinets in your kitchen, it's time to replace them with high-end custom cabinets. Stock cabinets are generally mass-produced, which compromises the quality. Here are some benefits of custom kitchen cabinets over stock cabinets:
You can easily customize every aspect from size to shape, colour, texture, and finish. In addition, you can personalize the hardware as per your liking, complimenting the home's style and the kitchen's theme.
Custom cabinets are crafted to fit the layout of your kitchen perfectly.
Expect quality and durability.
Significant features of custom kitchen cabinets
Custom kitchen cabinets can be designed with trash and recycling pull-out drawers for easy access while hiding the clutter perfectly.
Consider incorporating built-in utensil caddies for storing large utensils or lifts for storing small appliances.
Pull-out pantry drawers are great for accessing culinary items.
Custom cabinets are built with high-quality materials and designed to complement your lifestyle. Thus, installing custom kitchen cabinets can increase your home's resale value.
Custom wine cabinet
Another feature that can help you add high-end touches to your home is a custom wine cabinet. A custom-built wine cabinet can act as a statement piece in your home if you have a prized wine collection. It will become the focal point of any room and help you display the craftsmanship of your wine bottles.
Apart from this, a custom wine cabinet will preserve your collection. A designated wine cabinet will help to prevent spoilage, protecting the bottles from dust and sunlight, which can prematurely age the wine.
Even if you do not drink, installing a custom wine cabinet can make your home look more sophisticated. It also helps you entertain friends and family members who enjoy a drink or two.
Here are some areas where you can install a custom wine cabinet:
Below a staircase
Inside a finished basement
In your dining area
Next to your home's bar
Walk-in closets
Lastly, it would be best if you also considered installing a stylish walk-in closet. It is meant to offer more storage space to your home while adding to its appeal. A well-crafted walk-in closet with luxury elements like mirror accents, an expensive ottoman, and great lighting can make your home stand out.
Walk-in closets also offer several fantastic benefits, including:
Extra storage for pricey items.
Added privacy and comfort to get ready.
Increase the value of your home.
You can also use the space for multipurpose uses. People have started using their extra walk-in closet space for meditation, setting up seating arrangements, and entertaining friends. Some have added a refrigerator for quick refreshments or cosmetic products.
You can also implement custom cabinets with a built-in ironing board, laundry hamper, and pull-out rack, enhancing the function and practicality.
So there you go! These top three features can help add high-end touches to your luxurious home and make it all the more appealing.
Are you looking for custom cabinetry? Lancaster Custom Cabinets and Closets Inc can help you turn your vision into reality! Contact us today.