Kitchen cabinet handles are the most visible part of kitchen cabinets. They make a kitchen look great and help you get the most out of them. Choosing the right material, texture, and style for your handles is crucial to ensuring that they match up with your other kitchen accessories and fit well with your overall decorating scheme.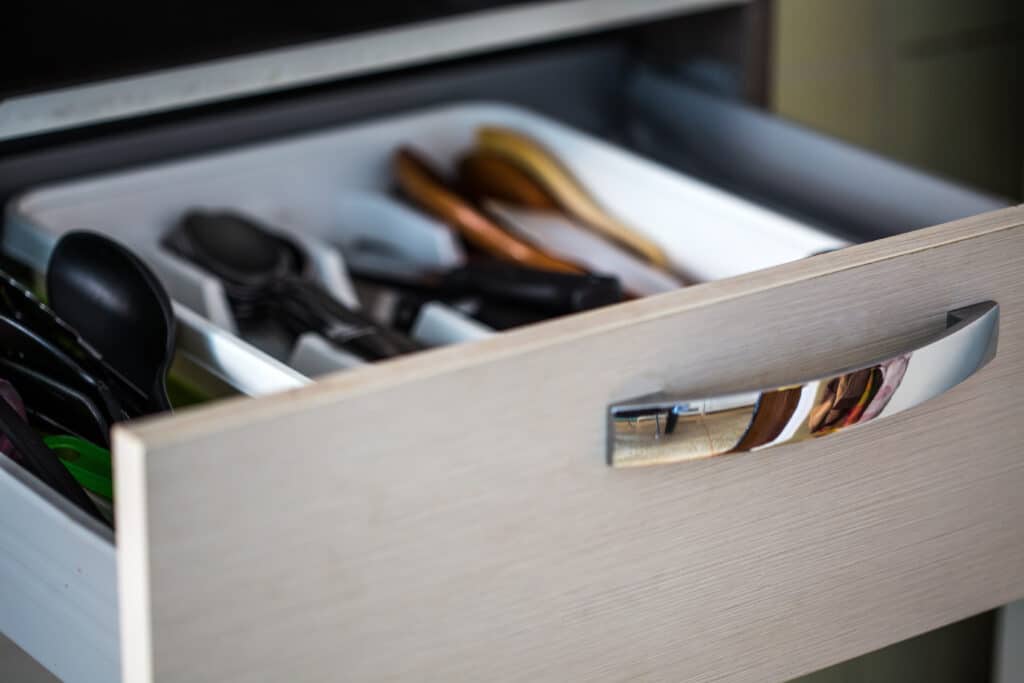 Choose based on style and theme
Let's get into the different styles and themes that you can choose from for your kitchen cabinet handles:
Rustic
Rustic kitchen cabinet handles are made of metal, wood, and stone. They are primarily in a simple shape and often have a smooth finish. The handles are often used as accents to the cabinets rather than being the main focus of your kitchen design.
Eclectic
Eclectic kitchen cabinet handles are another option for people who want a unique look in their kitchens. These handles can be chosen based on your kitchen's style and how you want them to blend with other parts of the home.
The best way to choose eclectic kitchen cabinet handles is by considering other decor elements. You may also select a combination of both knobs and pulls so that it leans away from looking completely uniform.
Traditional
Traditional kitchen cabinet handles are the most common type of handles. They are made of brass or stainless steel and usually round or oval-shaped. They may be about 1 inch to 2 inches in diameter, with a thickness ranging from 0.5mm to 1mm (0.02″ to 0.04″). Think simple and elegant.
Contemporary
Clean lines and the use of simple materials such as glass or steel characterize contemporary kitchen cabinets. This style can be used in both residential and commercial spaces, as well as kitchens. The modern style is often associated with minimalism, but it's not always an absence of decorative elements.
Finishes and materials
Now, let's take a look into the different finishes and materials you have to consider while choosing kitchen cabinet handles:
Materials to consider
The most common materials for kitchen cabinet handles are:
Stainless steel
Brass
Bronze
Pewter (a mixture of copper and tin)
Another consideration is how much weight can be added onto each side when installing hardware. You should also consider whether or not any screws need replacing on these cabinets.
Finishes to consider
There are many types of finishes to consider for kitchen cabinet handles. They can be polished, brushed, or satin or they may have an antique look. The finish also may be matte or burnished. The type of handle you choose depends on its overall appearance and how it will be used in your kitchen.
Consider texture
The texture of the kitchen cabinet handles can add depth and interest to the overall look of your kitchen. Choosing from various textures, including smooth, rough, or textured finishes, is possible. Consider matte or glossy finishes; satin-finished cabinet doors are often more resistant to water damage than their painted counterparts.
Choose based on type and functionality
When choosing kitchen cabinet handles, you should consider the type and functionality of each handle. For example, if you want a handle to hang on a drawer or cabinet door, choose one that will fit correctly with the size of your door. Here is what you need to know:
Different types of handles
Depending on the look you want and your kitchen cabinets, there is a wide range of handles for you to choose from. Some common examples include handles; cup handles, bow handles, bar handles, T-bar handles, tab pulls, or recessed pulls.
Knobs or pulls
You can choose between knobs and pulls for your kitchen cabinet handles. Knobs are usually used in large drawers and kitchen cupboards, while pulls are more suitable for smaller drawers. Knobs have a more extended reach, making them easier to grip when opening or closing the drawer or cupboard door. Pulls tend to be shorter, making them more challenging to use if you have arthritis or other hand issues that make it difficult to grasp things tightly without discomfort on your fingers.
Consider comfort and aesthetic
Consider the style of your kitchen cabinet handles. If you're going for a traditional look, you might want to choose wood or metal hardware matching the rest of your cabinets. If you want something modern, such as stainless steel or glass knobs with an organic shape, consider using these materials in combination. You can try out other options like granite countertops and dark appliances instead.
Consider the amount of use
You will need the most durable and long-lasting options for heavy-duty kitchen cabinet handles. Lightweight kitchen cabinet handles require something less bulky than heavy-duty cabinets. Medium-weight kitchen cabinet handles are generally considered mid-level quality but still provide exceptional value at an affordable price compared to other styles.
Choosing suitable handles for your kitchen cabinets is a big deal. It can make or break the entire look of the space, and it's essential to do it right. There are various types to choose from while designing your custom kitchen cabinets. The process can be overwhelming, but we've broken down our best tips in this article so that you stay aware of all those beautiful finishes!