Lancaster Customs cabinetry and closet manufacturer, and Mary Marlowe Leverette, share insights in The Spruce on the changing face of laundry rooms. Today's laundry room is more than just a room – it's all about making the most efficient use of space. That includes ensuring ample space for laundry equipment, counter space for sorting and folding clothes, and storage space to put away laundry products. Mary and Lancaster Customs advice is practical and valuable for architects, real estate agents, interior designers, and homeowners designing a new home or remodeling an existing laundry room. (Source: The Spruce, Building and Design Specifications for a Laundry Room, Mary Marlow Leverette, March 18, 2022, https://www.thespruce.com/building-design-specifications-laundry-room-2146692 ).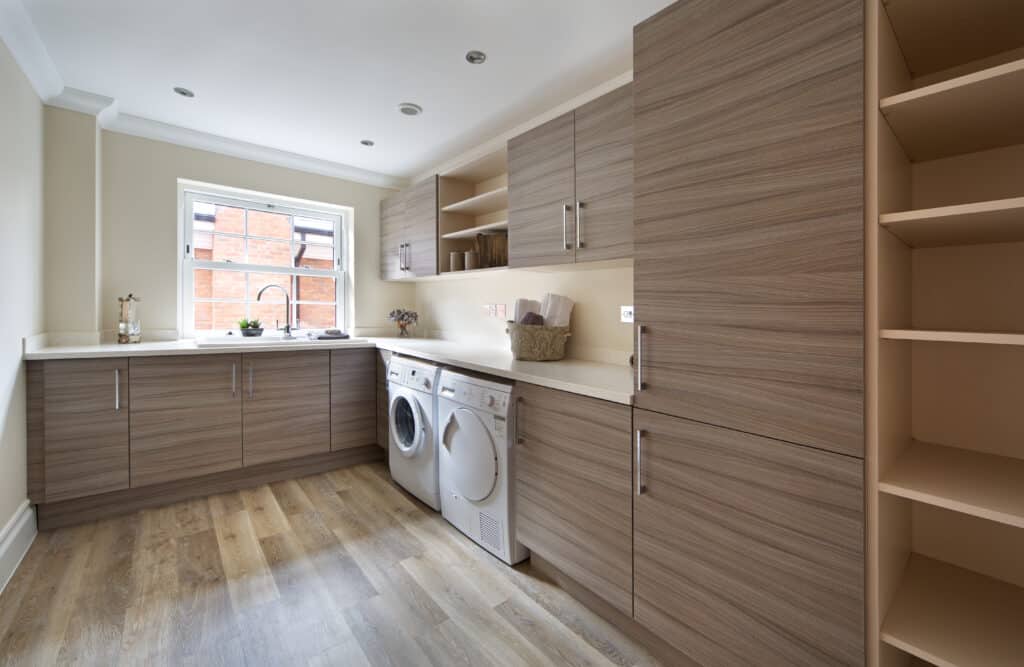 The changing face of laundry rooms
Mary's article includes some interesting statistics, such as that 95% of new homeowners prefer a separate laundry room. Another fascinating point is that laundry rooms have evolved from basements and first floors to exclusive spaces on upper levels of homes.
Today's affluent homeowners prefer multi-functional workspaces, built-in laundry equipment, multi-function counter spaces, spacious built-in custom cabinets like laundry cabinets and linen closets, and laundry room cabinets to store and conceal various equipment. Homemakers also prefer laundry rooms to free up space for other activities such as pet washing and gardening.
While custom laundry room cabinets are fantastic, Mary cautions against designing cabinets and units to meet current equipment needs. Customizing cabinets around existing equipment means you won't be able to replace them with larger equipment. Lancaster Customs provides some fantastic and insightful laundry room customization ideas.
Measuring out space for washers and dryers
Mary suggests leaving at least five feet of horizontal space to fit in a washer and dryer. A vertical space of up to 76 inches and a horizontal space of up to 30 inches is necessary for washers and dryers stacked over each other. Lancaster Customs shares, "venting, hosing, and air circulation spaces must also be considered when planning the layout of a laundry room." Laundry room doors must be wide enough to accommodate equipment.
Measuring out workspace
Mary suggests at least 48 inches of clearance in front of a front-loading appliance for easy movement around the machine – even when the door is open. Machines placed at floor level under the counter provide an ideal workspace for folding laundry.
About 36 inches of counter space next to your machine is ample for pre-wash treatments like stain removal. Lancaster Customs suggests "choosing the height of lower cabinets should be based on what the client needs accessible. This area of the home is used often and therefore should be comfortable to complete tasks, like folding laundry easily."
Laundry room construction tips
Lancaster Customs suggests the following laundry construction tips for safety:
Use extra insulation on floors and walls to help reduce noise pollution when your washing machine or dryer is running.
Make sure the floor has proper drainage protection, so the rest of the home does not get wet if a hose leaks or the washer overflows.
For added security, install an automatic shutoff water valve.
Avoid using an extension cord and ensure proper electrical connections.
About Lancaster Customs
Lancaster Customs is a well-known cabinetry and closet manufacturer that takes pride in providing high-quality custom cabinetry and home renovations. Lancaster Customs is known for its exceptional custom cabinetry craftsmanship that reflects each client's unique vision for their home.