When it comes to designing a living room that blends both style and functionality, it is crucial to avoid certain common mistakes. Here, we delve into a discussion with Lancaster Customs, a premier custom cabinets, and cabinetry firm, to provide commentary on an article by Homes and Gardens about these common living room organization errors. (Source: Homes and Gardens, Living room organization mistakes – 7 errors that make a space feel smaller and more cluttered, by Chiana Dickson, February 1, 2023, https://www.homesandgardens.com/interior-design/living-rooms/living-room-organization-mistakes ).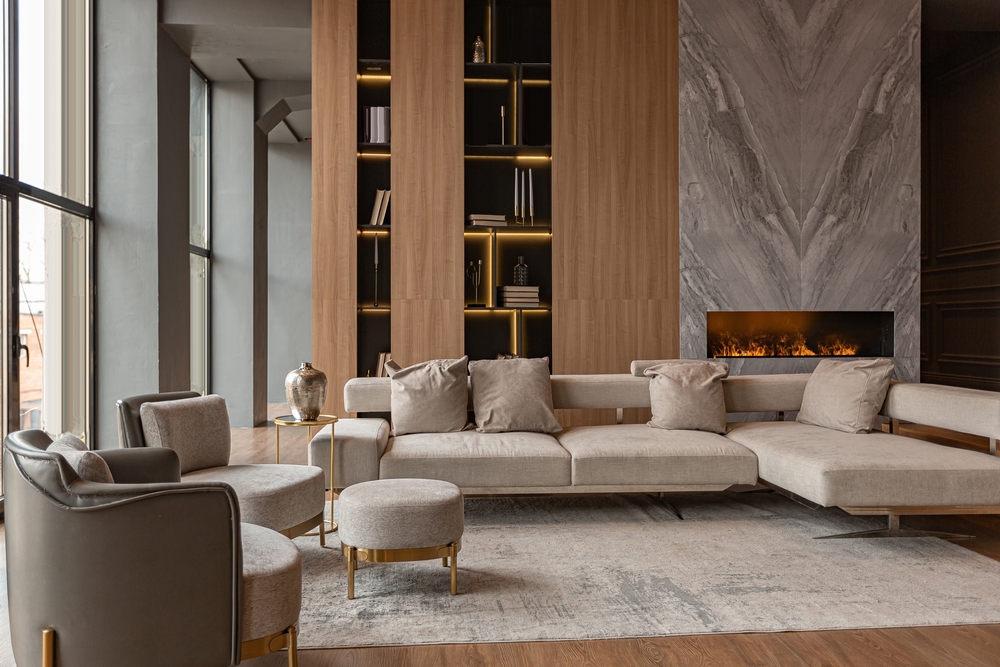 "Skipping out on vertical storage"
As the Homes and Gardens article pointed out, overlooking vertical storage is a significant mistake. "At Lancaster Customs, we see vertical storage as an opportunity to be creative while maximising space," says a representative. Their custom cabinets are designed to provide the most effective use of vertical space without compromising on aesthetics.
"Using the living room as a dumping ground"
Another point raised in the article is the tendency to use the living room as a catch-all. According to Lancaster Customs, "Integrating purposeful storage like our custom cabinetry can help maintain an organised and inviting living room." Providing designated storage spaces makes items less likely to be randomly left out, helping to avoid clutter.
"Having piles of things like DVDs, books or magazines"
Lancaster Customs believes that piles of items like DVDs, books, or magazines can be easily avoided with proper storage systems. "Piles of items left out can often take your eyes away from the interior design features of a space. It is common that the items mentioned in the article tend to find their way onto the floor, piled into corners, or on top of coffee tables. Our custom cabinets can be tailored to specific needs or created to house specific items, allowing for a streamlined and orderly appearance."
"Not using cohesive storage solutions"
As pointed out in the article, a common mistake is not using cohesive storage solutions. To this, Lancaster Customs adds, "Our unique approach to custom cabinetry ensures each piece blends seamlessly into your space, providing both style and functionality."
"Adding too much furniture or not scaling it to your room"
The article emphasizes the importance of scaling furniture to your room. "At Lancaster Customs, we understand that the size and arrangement of furniture can significantly impact a space. Choosing oversized or too minuscule furniture or decor can throw off the room's balance. Our custom cabinets are made to fit your room perfectly, enhancing its appeal and functionality," they state.
"Not putting items away properly- even in organizers"
Not putting items away properly can lead to disarray, even when using organizers. Lancaster Customs suggests that "utilizing custom cabinetry designed to accommodate specific items can significantly improve organization. Various inserts can be added to help keep items in their place. Our cabinets offer intuitive storage solutions that make maintaining an orderly living space easy."
"Leaving toys out"
The last point the Homes and Gardens article discusses is leaving toys out. Here, Lancaster Customs advises, "When you have little ones running around, it is advisable to create organization solutions that are child friendly. Some things to consider are slow-closing drawers and shelves that accommodate their reach and grasp. With our custom cabinets, you can have designated storage for toys, making clean-up simpler and more efficient while keeping your living room tidy."
In conclusion, Lancaster Customs emphasizes the critical role that custom cabinets and cabinetry play in avoiding these common living room mistakes. They assert, "Good design is as much about functionality as it is about aesthetics. Our custom cabinets and cabinetry provide a solution that blends both, ensuring a living room that is stylish, comfortable, and well-organized."
Indeed, avoiding these common living room mistakes can lead to a space that is not only beautiful but also functional, proving that smart storage solutions and thoughtful design can go hand in hand. With expert insights from Lancaster Customs, we hope you're equipped to create a living room that avoids these pitfalls and delivers on both style and practicality.