The well-designed laundry room has become an essential component of the modern home, offering an appealing blend of functionality and aesthetics. Central to this design evolution is the incorporation of laundry room cabinets – crucial elements that marry utility and style, thereby not only transforming how homeowners manage laundry tasks but also elevating the overall ambiance of these often-overlooked spaces.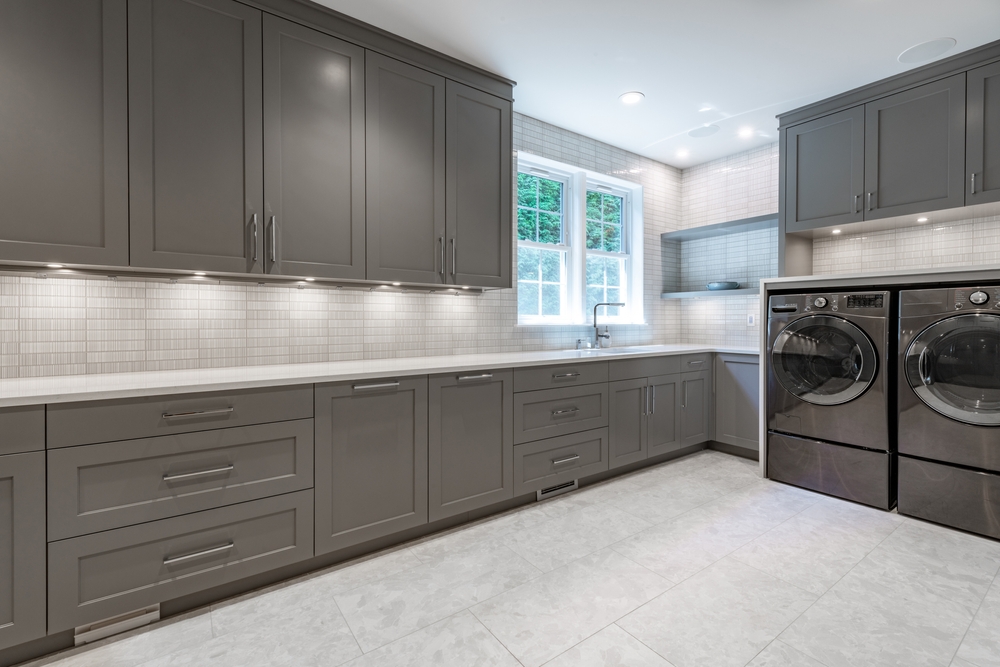 Assessing Your Needs
A good understanding of one's needs and preferences lays the foundation for a well-organized laundry room. Essential considerations include the size and layout of the space, available storage, and the various laundry essentials that need to be stored, such as detergents, fabric softeners, cleaning supplies, and laundry baskets. Tailoring your laundry cabinets to meet these needs not only maximizes efficiency but also streamlines the often-tedious process of laundering.
Optimal Cabinet Layout and Design
Selecting the optimal layout for your laundry room cabinets plays a significant role in establishing an effective workspace. Options include wall-mounted cabinets for easy access, floor-to-ceiling variants for maximum storage, or overhead cabinets to exploit unused space. Beyond functionality, cabinet choice should also contribute to the overall style and aesthetics of the space, thereby creating a harmonious and inviting atmosphere.
Storage Solutions and Organization
Efficient storage solutions within laundry room cabinets can significantly enhance the functionality of your laundry room. Shelves, drawers, hooks, and hanging rods provide organized spaces for different laundry items, and category-based organization systems, such as sorting bins and labeled containers, further streamline the process. All these storage elements and space-efficient features can be incorporated into your custom cabinet design. Consider incorporating pull-out hampers, folding ironing boards, retractable drying racks, and built-in folding tables. These innovative solutions maximize utility, minimize clutter, and effectively utilize the available space.
Material and Finish Selection
Material selection for laundry cabinets is crucial, considering the damp and often humid environment. Durable, moisture-resistant materials like wood, laminate, and stainless steel are popular choices, each with its own set of advantages and potential drawbacks. For instance, at Lancaster Customs, we use 3/4″ FSC wood, water-based finishes, and top-quality hardware in all of their custom cabinets, providing long-lasting and environmentally responsible solutions. Matching the style and colour of cabinets to the home's overall design theme—be it modern, traditional, or rustic—ensures aesthetic consistency.
Lighting and Accessibility
Lighting plays a significant role in the functionality and ambiance of the laundry room. Under-cabinet lighting, task lighting, and even natural light sources can dramatically enhance visibility and ease of use. Additionally, considering ergonomic needs when installing cabinets ensures easy access and a comfortable work environment.
Maintenance and Cleaning
Maintaining the appearance and extending the lifespan of your laundry room cabinets involves regular cleaning and addressing common issues such as stains, spills, and humidity-related concerns promptly and effectively. The use of appropriate cleaning solutions and techniques can keep your cabinets looking their best for years to come. When in doubt, ask our expert staff members for the most suitable solutions to maintain your custom cabinets. We suggest avoiding DIY solutions.
In summary, when thoughtfully chosen and installed, laundry room cabinets can significantly enhance the utility and style of your laundry room. From understanding your needs, selecting the proper layout and design, and employing innovative storage solutions, to considering materials and finishes, every aspect plays a role in creating a space that is both functional and visually appealing. We hope this guide inspires you to rethink and redesign your laundry room space, creating an area that works for you and adds value to your home.