The New Year is a fabulous time to consider renovating or remodelling your home or office space. After all, what better way than this to make a fresh start and bring in the New Year with a bang? Right? Before you get down to the actual work and plans are in place, it pays to ideate what you want to do. Take into consideration features that will improve the functionality, aesthetics, and value of your home/ office. Need help deciding which features to pick? Let us help!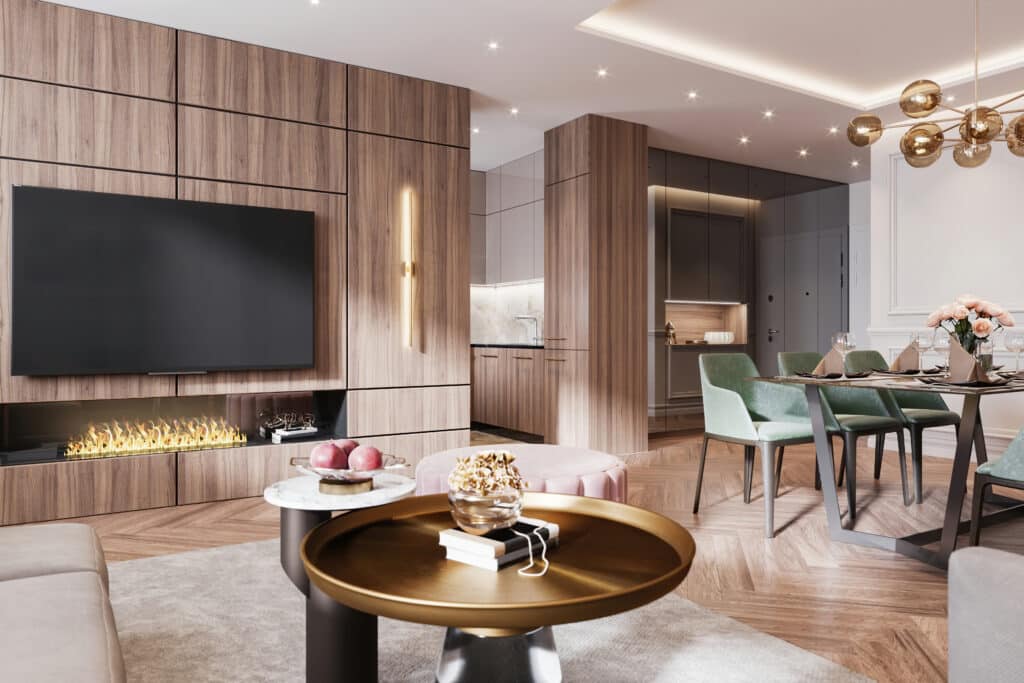 Living space
This is where you'll be entertaining your guests and also where you'll get together as a family. This space needs to be functional yet classy and cozy. Consider the features below:
Entertainment unit
A customized entertainment unit lets you nestle a whole lot more than just your TV in one space elegantly and more accessible. Custom-designed entertainment centres keep all your equipment right at hand with unsightly wires out of sight while utilizing one wall efficiently.
TV wall unit
A more compact unit, the TV is the centrepiece here. Utilize the space around the TV with custom-made shelves to accommodate the best of your decorative items.
Custom cabinets
They can help reduce the clutter off the living room floor and add to the character of the room. Custom cabinets give you maximum freedom to design your living space to reflect your tastes.
There are also some unique features to include in your living room plan to set your home a cut above the rest.
Include a cozy electric or gas fireplace.
A media wall to accommodate all your media devices, with a built-in section for charging.
Warm lighting in the living room with a whimsical light fixture.
A recessed or cove ceiling brings attention to one area.
Kitchen space
A kitchen has to be functional and comfy. You also need enough floor and working space to get things done fast here. Some top features:
Kitchen cabinets
Functionality and elegance are both critical. Custom kitchen cabinets to put culinary items within easy reach make cooking pleasurable and effortless. Choose a closed kitchen and utilize the separating wall to mount kitchen cabinets.
Built-in bar
A built-in bar lets you play with creativity; you can choose to utilize just one shelf or a space in a corner dedicated to the bar. Add a granite or glass-topped table top for an extra pop of elegance. Use special lighting right atop this space.
Wine cabinets
Custom-made cabinets to display the best of your wines and set your kitchen design a cut above the rest instantly.
Here are some additional unique features that you may consider when designing your custom cabinets:
Built-in features like pull-out drawers or lifts add value and style to your kitchen design while keeping it uncluttered.
Built-in power outlets with USBs make your kitchen much more functional without stressing about maneuvering your appliances to accommodate the plugs.
High-end faucets make a functional as well as stylish addition. For example, pot filler faucets reduce the workload immensely.
Choose the proper lighting to brightly light up the kitchen. Opt for hanging task lighting to make working easier while adding style.
Extension drawers in your kitchen let you utilize all of the drawer space by giving access to the furthest end.
High homes must have high-tech kitchen appliances that show class and elegance. Think built-in fridge, built-ins for smaller appliances, or warming drawers.
Office space
The ambience is critical here, and so is functionality. The office space must scream professionalism and competence. Here are your top feature choices:
Custom cabinets
Custom cabinets let you fully utilize wall space, keeping your floor clutter-free. In addition to having an organized space, using the entire height of a wall can make your office or room appear bigger than it is.
Built-in bar
A great addition to entertain clients at your office with panache, add a glass and granite bar.
Built-in library
Design your library with custom cabinets in your office for a high-brow, high-society look.
Integrated furniture, multipurpose/collaboration spaces, biophilic design elements, and wellness spaces are some unique features you can consider to elevate the look of your office space.
Take time to define your vision before you get down to talking design with the experts at Lancaster Customs for your custom-created home or office space. Having a clear plan in mind makes it easy to translate into a stunning reality. New year, new vision, new home!