Are you looking to add sophistication and personalization to your bathroom remodel projects?
This article will share expert tips on choosing and incorporating these features into your designs for a luxurious and functional bathroom space. Additionally, we will explore key indicators that suggest it's time for a bathroom makeover.
Let's dive in and elevate your bathroom design game!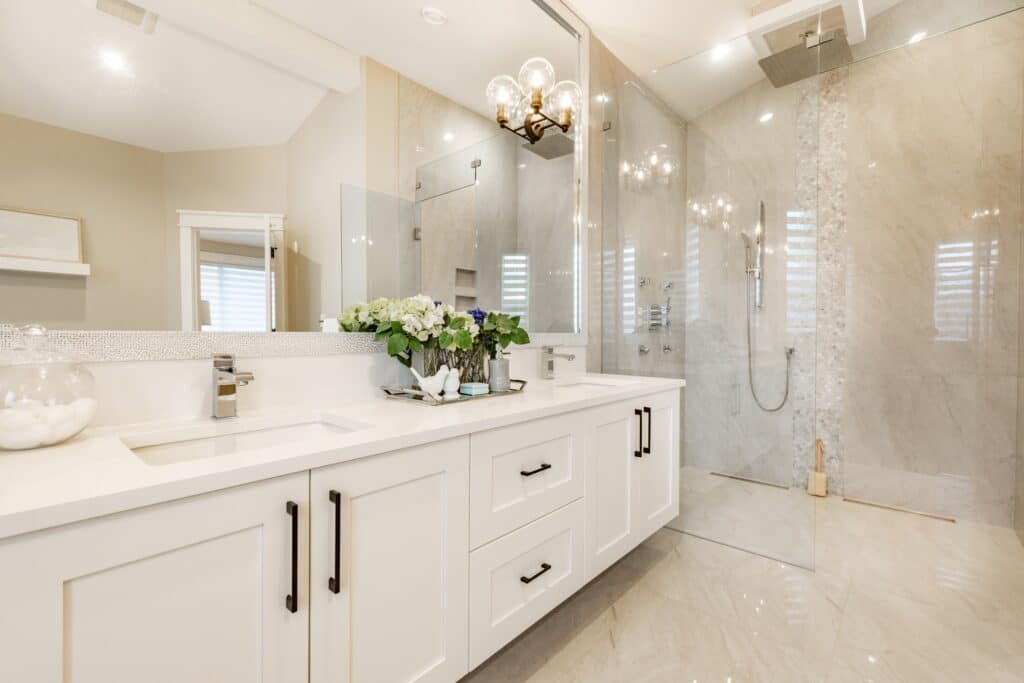 Is it time for a remodel or renovation?
Knowing when it's time for a bathroom remodel or renovation depends on several factors, including the bathroom's age, current condition, and the owner's needs and preferences.
A common indicator is an outdated design. It makes a bathroom appear dull and uninviting, especially in comparison to the rest of the home's luxurious features.
Another factor could be the client's desire for change. A new bathroom can bring a fresh perspective to a living space, increasing overall satisfaction with the home.
Functionality is also an essential consideration for bathroom updates. It may be time for a remodel if the current layout and features no longer meet the client's needs. Practical upgrades, such as energy-efficient fixtures or additional storage solutions, can also enhance the space's value and make daily routines more efficient.
For those who plan to sell their home in the near future, a bathroom remodel can help to increase the home's overall value and attract potential buyers.
Finally, any signs of damage, such as leaks or cracks, could be an opportunity to remodel or renovate a bathroom.
Key features to include in a bathroom remodel
When it comes to designing a luxurious bathroom for clients, custom cabinets and a custom-built vanity in Aurora are essential features. These elements offer a level of sophistication and personalization that can transform a bathroom into a space of ultimate luxury.
Consider the materials, style, and storage needs when choosing custom cabinets in Aurora for a bathroom. Select cabinets that complement the overall aesthetic of the bathroom. Custom cabinets in Aurora can be perfectly tailored to fit the bathroom's dimensions and storage needs.
A custom-built vanity in Aurora can provide additional storage and counter space, adding both functionality and aesthetic appeal to the bathroom. Choose high-end hardware options like drawer pulls and cabinet knobs to enhance the design. New fixtures like faucets and handles can add elegance and functionality to the space.
Lighting and splashes of colour can create a warm and inviting atmosphere, adding personality and charm to the bathroom. Use high-end finishes and styles to match the overall design. As current bathroom design trends lean towards nature-inspired materials and organic shapes, use these trends to create a timeless and unique bathroom design.
Lancaster Customs highlights
Lancaster Customs achieves customer satisfaction by using 3D rendering software to bring designs to life and using only top-quality materials and hardware in their custom cabinetry and closet designs. They also pay close attention to details to ensure that every project meets their clients' vision and exceeds their expectations.
With a passion for bringing interior designs and visions to life, Lancaster Customs offers exceptional quality custom cabinets. They use only 3/4″ FSC wood, water-based finishes, and top-quality hardware to create custom cabinets that reflect a client's vision for their home.
If you're building a custom home or renovating an existing one, choosing Lancaster Customs for your closet and cabinetry needs ensures you'll receive exceptional craftsmanship and personalized service.
With Lancaster Customs, custom cabinets in Aurora, and custom-built vanity in Aurora, you can trust that your client's home will have the perfect balance of functionality and aesthetic appeal.
Include a bathroom remodel for your next home project! For those in the Aurora area, contact Lancaster Customs for all custom cabinetry and closet needs.