Custom cabinets and built-in closet designs or storage solutions enhance every home's interior. Many spaces go unutilized in your home, which you can turn into functional areas. What's not to love in a quaint book nook, a hidden laundry hamper, or a swanky new entertainment center?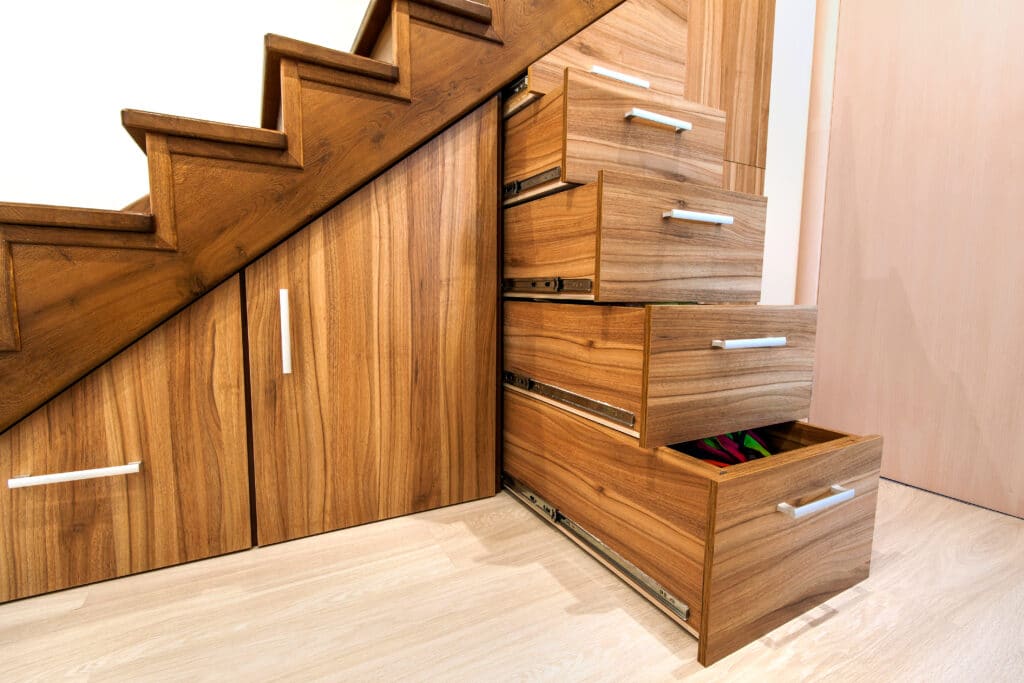 Built-ins for your workstations
Workstations need to be organized. A systematic layout will help you get your work done efficiently and save time over searching for things. Let's look at a few ways you can add functionality to your workspace.
Built-in stand-up desks with cabinets can provide a demarcated place for your documents, gadgets, and other work supplies.
You can customize a homework station for your kids or carve out a small workspace for yourself.
Built-in open shelves are great for keeping your book collection handy. Cabinets with open shelves in your office space are excellent, so you can easily find your regular-use binders and equipment. Additional cubbies and drawers can be incorporated to increase storage solutions if required.
Hidden space under the stairs
The space under the stairs is usually underutilized but has amazing potential to become a much-needed storage solution. Below you will find a few ideas that you can explore:
Hidden wine cabinet
Building custom cabinets to store your wine collection is a great way to keep them safe yet easily accessible.
Closet space
A customized closet design allows you to effectively explore the space under your stairways. You can get createdrawers for storing seasonal clothes or decorative products. This space can be turned into a shoe closet or a drop station to put your chargers, keys, wallets, and umbrellas.
Display with open shelves and cubbies – plants, books, decorative items
Creating an open-shelved cabinet is one of the easiest customizations you can do with your under-the-stairs space. There are endless ways you can jazz this up – store books, keep decorative trinkets, or plants. Whatever floats your boat!
Dog kennel space with shelves to store pet supplies
Your furry babies need their own space. You can build customized beds, shelves, and eating areas for them to cozy up to – all under the stairs! Imagine how fun it will be to have a Harry potter cabinet with customized décor for your dog.
Vertical display
Based on the layout of the home, you can assign a room and revamp that to become a stylish entertainment unit. Unique built-in solutions will help you plan the vertical display in a hassle-free manner. Housing a television, gaming accessories, and state-of-the-art sound systems without taking up a lot of floor space in the house is a big win!
You can explore a variety of closet design options that will help you install a built-in wardrobe and open shelves that add sophistication to your home. A display unit, when done right, can be a focal point of attraction to everyone who visits.
Isn't it great to have customized storage solutions? Now that you know the many ways a custom built-in storage can help you, contact Lancaster Customs today. They will not only design aesthetic custom cabinets but also ensure every corner of your house exudes luxury!