Your boardroom is a crucial space in your office setup. Therefore, it is critical to get the features, layout, and design of your boardroom done rightly. In today's article are a few things you should consider while upgrading your boardroom.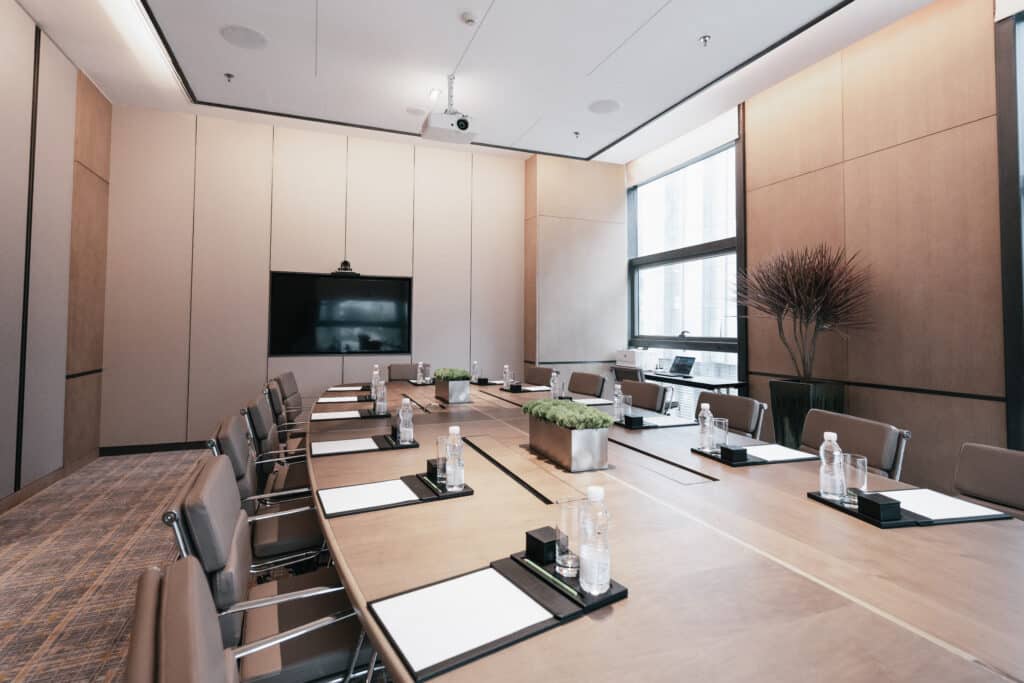 Why you should upgrade your boardroom
The four significant benefits of upgrading your boardroom are happy employees, the opportunity to add updated technical features, standing out to clients, and getting an edge over your competition.
You can show your employees that you value them by creating an updated, fully-functional tech set-up that will help them conduct meetings in a hassle-free manner. It allows your team to manage their work seamlessly and has a lasting impression on your clients. Your vendors and business partners will also appreciate the work you have put into the infrastructure.
Have comfortable seating arrangements with plush chairs, benches, and built-in furniture. This will ensure that your teammates or anyone else using the boardroom is completely focused on what is being discussed rather than thinking about back pain!
Top 3 unique additions
Three unique features that will enhance your boardroom upgrades are as follows:
Custom cabinets
Custom cabinets in your boardroom are a great way to minimize clutter and make enough space for storage. You need a lot of equipment in the boardroom, but you do not want the wires and cables hanging out. Custom cabinets tucked away or with unique openings can fit seamlessly into the décor. You can use this to store stationery and extra equipment.
Entertainment unit
An updated entertainment unit is an excellent addition to any boardroom. Gone are the days when you used projector screens and spent much time ensuring it was working correctly before a meeting. Nowadays, screen-sharing technology can help you directly connect to a sophisticated entertainment unit and make your presentation flawless! Combine this with a good sound system, and you will make a lasting impression on everyone.
Custom built-in dry bar
Having refreshments around, especially during long meetings, is very important. Incorporating a custom built-in bar for holding water, tea, coffee, soft drinks, and snacks helps avoid clutter on your conference table. This custom built-in bar could also have custom cabinets to hold extra plates, glasses, and food supplies for easy access.
Additional elements
Additional elements that you can explore for your boardroom upgrades are a great set of lights. Dim lighting makes it difficult to read and take notes during meetings. Having options for good lighting can also help your performance with product reveals and presentations.
Ensure the seating area in your boardroom is comfortable. Keep extra chairs, stools, or benches handy so that they can be brought into the boardroom in case more people join the meeting unexpectedly. Replace worn-out furniture promptly, as they create a negative impression about the company with any visitors.
Design the aesthetics of the boardroom by keeping your brand in mind. The décor should be minimalist and clean. You could hang a few paintings, but they should be subtle and not loud. Updated tech devices and dry-erase boards can be good features to add to your meeting rooms.
Are you looking to add custom cabinets, fit an entertainment unit, or have a custom built-in bar installed in your boardroom? Contact Lancaster Customs today. They have the best design options, use optimum quality material, and will get your boardroom upgraded in no time.