Whether renovating a Oakville kitchen or building a new home, you will be inevitably faced with the difficult question. What type of kitchen cabinets do you want to be installed? While some people know what kitchen cabinets they want, others are perplexed by the vast range of cabinet styles, colors, and materials available. Here's some help when choosing kitchen cabinets for your Oakville kitchen.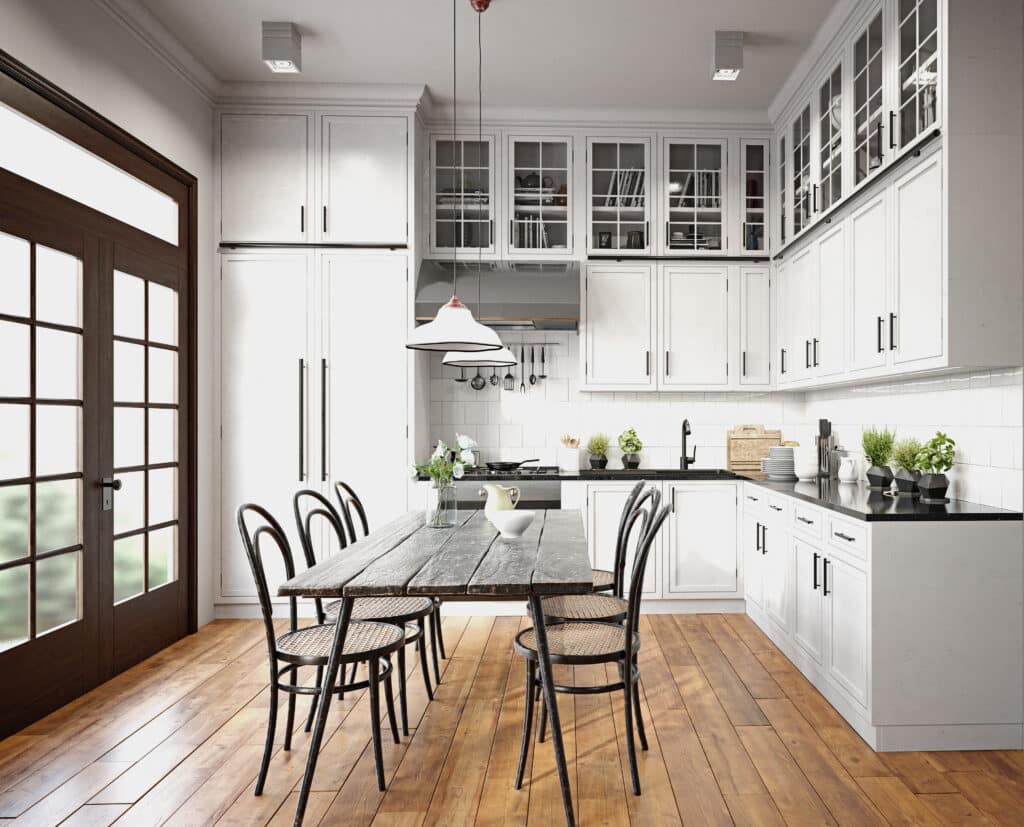 Choose cabinets based on functionality
Custom kitchen cabinets in Oakville offer a wide range of functionality. Racks are fantastic for canned goods and stacks of snacks and cookies. Open shelves work for more oversized items that won't fall out.
Pull-out drawers with adjustable shelves are fast replacing open shelves as most people find it easier to stash away and sort smaller items.
Removable cabinet inserts like utensil trays, plate holders, mug holders, and dividers can be shifted to suit various requirements and are a widely used feature in many kitchen cabinets in Oakville.
Accessories like holders, locks, and hangers store away items that don't fit anywhere else, adding style to your cabinets and increasing their functionality.
Choose a door style
Flat panel doors are slick, stylish, and ideal for modern and transitional kitchens. The doors have a single flat panel surrounded by molding.
Mission-style doors have a square frame molding that offers simple and clean lines. They are often made of oak and then stained to highlight the grain in the wood.
Shaker-style doors are classic and traditional but look fantastic in modern kitchens. This style is similar to the mission style door, but they have a much narrower frame molding.
Raised panel doors are very traditional, with the center panel slightly raised.
Slab doors are minimalistic and contemporary, with no molding, panels, or ornamentation.
Beaded doors can be combined with traditional or modern kitchen styles. The interior panels of these doors have stripes created by a single/double groove.
The type of cabinet doors you choose should depend on the overall style of the kitchen, the existing décor and style of the home, and the color scheme.
Choose kitchen cabinets based on trends, styles, and other factors
Traditional vs. Modern
Traditional kitchen cabinets offer more texture and a darker and rustic appearance. Modern cabinets are more uniform-looking, sleeker, smoother, and more compact.
Framed vs. frameless
Frames offer durability and support to kitchen cabinets. But they also have nooks and crannies that collect dust, serve no purpose, and take up space. Frameless cabinets are fantastic for smaller kitchens where every inch of space matters.
Size of cabinets
To avoid dust traps, consider installing cabinets that go all the way to the ceiling. Smaller cabinets are great for storing items that are used often. Also, consider the size of appliances (both large and small) that must be stored.
Kitchen cupboards in Oakville homes are usually trendy and stylish. Kitchen design in Oakville homes is a big deal for homeowners.
Choose based on material and finishes
Oakville homeowners prefer wood kitchen cabinets made of FSC wood with water-based finishes like the custom cabinets created by Lancaster Customs. Lancaster Customs uses ¾-inch wood to create a wide range of custom kitchen cabinets in Oakville. They also have a wide selection of finishes and hardware to suit any budget and lifestyle.
When it comes to hardware, you can choose fully adjustable door hardware, spice organizers, pull-out pantries, Lazy Susan spins, and cabinet pull-outs.
So, there you have it – everything you need to know about choosing custom kitchen cabinets in Oakville. When selecting kitchen cabinets, consider factors like the kitchen design, the overall style of your home, the equipment you want to store away, and the size of the cabinets. Finally, wood kitchen cabinets in Oakville will never go out of style. Today, homeowners have a wide range of woods and finish to choose from. Contact Lancaster Customs today for more information!