Are you interested in discovering the most common laundry room design mistakes? Jenny McFarlane has compiled a comprehensive guide to help you avoid any potential mishaps. In this article, Lancaster Customs takes you through the mistakes you ought to steer clear of! (Source: Real Homes, Laundry room design mistakes and how to avoid them according to experts, Jenny McFarlane, February 8, 2022, https://www.realhomes.com/advice/laundry-room-design-mistakes ).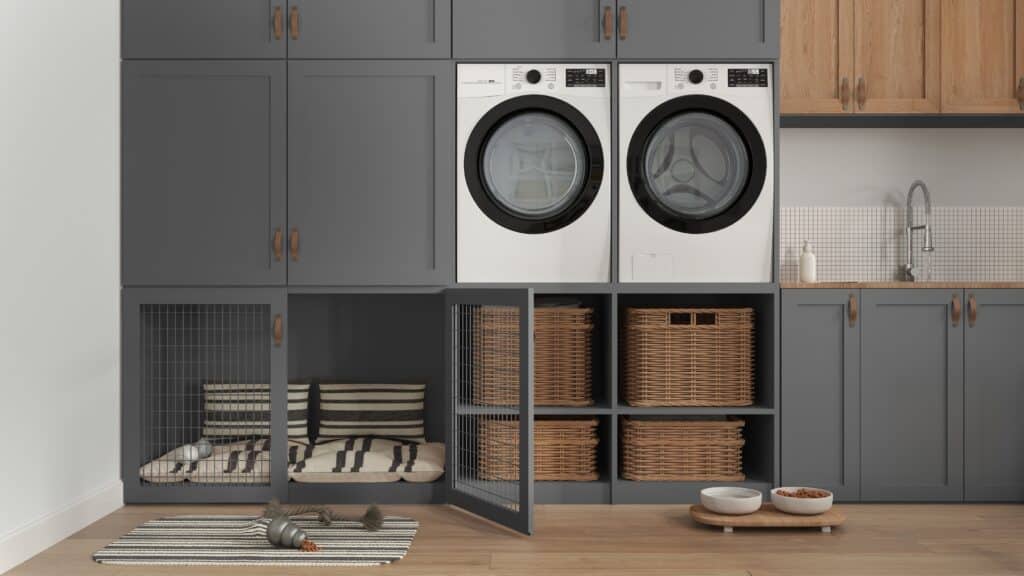 Poorly lit laundry rooms
Jenny McFarlane explains that despite the limited space, laundry rooms require ample lighting, especially when sorting clothes by colour. When it comes to lighting, it is advised to choose a compact fixture that provides sufficient illumination.
Lancaster Customs advises, "Effective laundry room lighting should include using LED strips underneath custom cabinets to support the lighting scheme. Choosing a row of pendants that shine directly downwards and installing wall lights over countertops for extra glow can work well."
Lack of storage in laundry cabinets
Jenny McFarlane compiles the ways of making sure you have ample storage in your laundry room by adding custom cabinets, using wall-mounted storage solutions, and planning for a compact hanging or drying space.
Lancaster Customs adds, "Use baskets and bins to keep like items together and reduce clutter. Label the baskets for easy identification. Install a countertop or folding station over your washer and dryer to create a space to fold clothes and store laundry baskets. If your laundry room is small, consider using a stackable washer and dryer unit to free up floor space."
Poor utilization of laundry room cabinets
Jenny McFarlane says that It's no secret that many laundry rooms are small. But with careful planning and organization, you can make the most of the space available. This may involve ensuring there are enough electrical outlets or incorporating ample shelving in your laundry room cabinets to store supplies and accessories.
Lancaster Customs elaborates, "Lack of planning can lead to poor utilization of laundry room cabinets. This is one mistake you can easily avoid by drafting a layout before starting the building of the laundry cabinets."
Lack of multi-functional elements
Jenny McFarlane advises that laundry rooms can serve a variety of purposes beyond just washing clothes. The most functional laundry spaces provide ample storage for cleaning supplies, as well as space for a boot room and other multi-functional uses.
Lancaster Customs adds, "A laundry room can double as a mudroom, providing a space for removing and storing dirty shoes and clothes. It can also be a convenient location for a pet care station, with space for food, water, and grooming supplies."
Dull laundry rooms
Jenny McFarlane understands that while style may not be a crucial design element, creating an inviting and pleasant laundry room can motivate you to spend more time in it. Personalizing your laundry room can make tackling that pile of laundry less daunting and more enjoyable.
Lancaster Customs explains, "A well-designed laundry room can make the task of doing laundry more enjoyable and less of a chore. When you have a space that you enjoy spending time in, it can motivate you to complete the task at hand. It can add value to your home. An attractive and aesthetically pleasing laundry room can be a unique selling point for potential buyers."
Lancaster Customs concludes, "Laundry rooms are an essential part of many homes. They provide convenience, organization, and improved indoor air quality, while also adding value to your house. Custom cabinets, multi-functional laundry room cabinets, and well-lighted laundry cabinets will surely enhance the look and feel of the space!"