Few things exemplify sophistication and refinement in home interiors, like custom cabinets. Their allure lies not only in their beauty but also in their adaptability, fitting effortlessly into any space and any aesthetic. Recently, the popularity of these handcrafted marvels has surged, sweeping through homes and transforming rooms with their unique charm.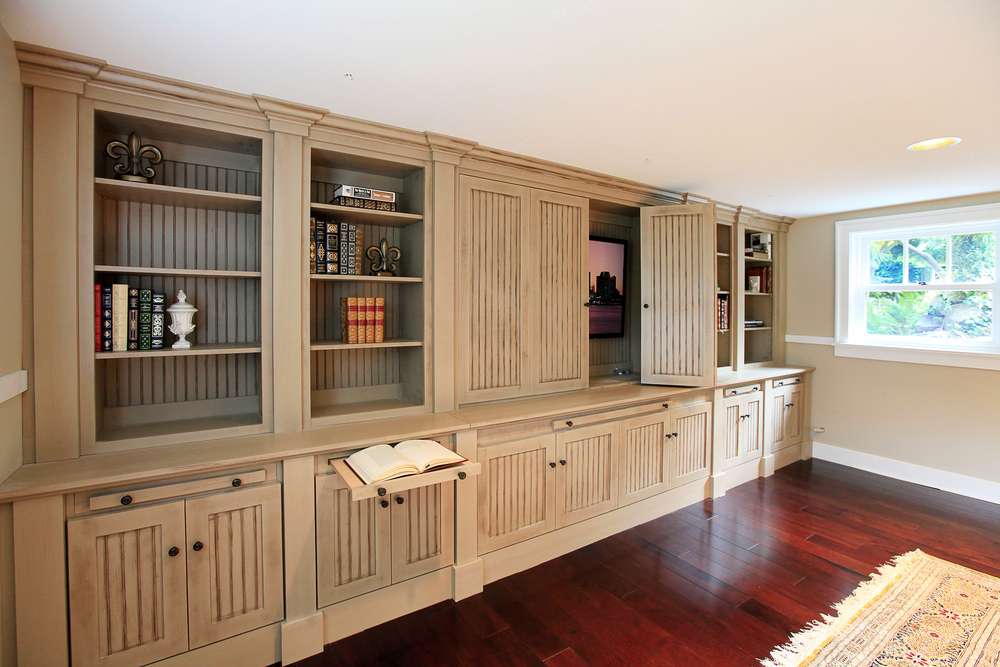 Custom Laundry Room Cabinets
Nothing quite enhances the utility and aesthetics of a laundry room like custom cabinets. They offer an unmatched blend of functionality and style, providing a structured place for everything from laundry essentials to cleaning supplies. With innovative features such as built-in hampers, ironing boards, and drying racks they help keep the space tidy and organized.
These handcrafted wonders also have a significant impact on the overall appearance of your laundry room. They can be tailored to match your preferred design style, thus giving the room a refined, elegant look while promoting a sense of calm and order.
Custom Kitchen Cabinets
The kitchen is the heart of the home, and what better way to accentuate its charm than with custom kitchen cabinets? These versatile creations can be personalized to cater to unique storage needs and cooking habits, fostering efficiency and organization. Whether you require more room for pots and pans or need a dedicated spice rack, custom cabinets have you covered.
Moreover, custom kitchen cabinets offer a variety of material and finish options, allowing them to harmonize with any design scheme. Glass doors, decorative accents, and other unique elements can be integrated for an additional layer of sophistication, making your kitchen a truly one-of-a-kind space.
Closet Design
Imagine having a closet that mirrors the elegance of a high-end boutique, where every piece of clothing, accessory, and pair of shoes has a dedicated space. Custom closet cabinets offer just that. With customized hanging rods, adjustable shelves, and thoughtful shoe racks, they bring a new level of organization to your wardrobe.
Ingenious accessories like pull-out mirrors, jewelry drawers, and valet rods further enhance the convenience and functionality of these designs. Regardless of the size of your clothing collection, custom closets can be crafted to accommodate it, improving your daily routines and overall tidiness.
Linen Cabinets
Custom linen cabinets offer an ideal solution for homeowners striving for a clutter-free environment. Designed for use in bathrooms and utility rooms, these cabinets provide tailored storage for towels, bedding, and toiletries. With adjustable shelving, dividers, and pull-out baskets, they ensure your linens are neatly organized and readily accessible.
Customizing the finish and hardware of your linen cabinet allows it to complement the existing decor effortlessly. This provides a cohesive and harmonious look that elevates the aesthetic appeal of your spaces.
The world of custom cabinets is a testament to the remarkable craftsmanship and meticulous attention to detail offered by their makers. They possess the transformative power to enhance the functionality and elegance of any room, turning ordinary spaces into extraordinary ones.
As we continue to explore the world of handcrafted cabinetry, it is clear that there is no better way to cater to specific storage needs while injecting a dose of sophistication into our homes. With their balance of beauty and practicality, custom cabinets beckon us to embrace the potential they bring for enhancing our daily lives and elevating our surroundings.