The kitchen is the focal point and heart of any home, where you spend most of your time. That's why choosing the right cabinets for your kitchen is essential, whether you want something classic or modern. A good kitchen cabinet can make all the difference in how easily and comfortably you can cook and clean in your space. There are many trends currently in this area, so let's take a look; you may be inspired!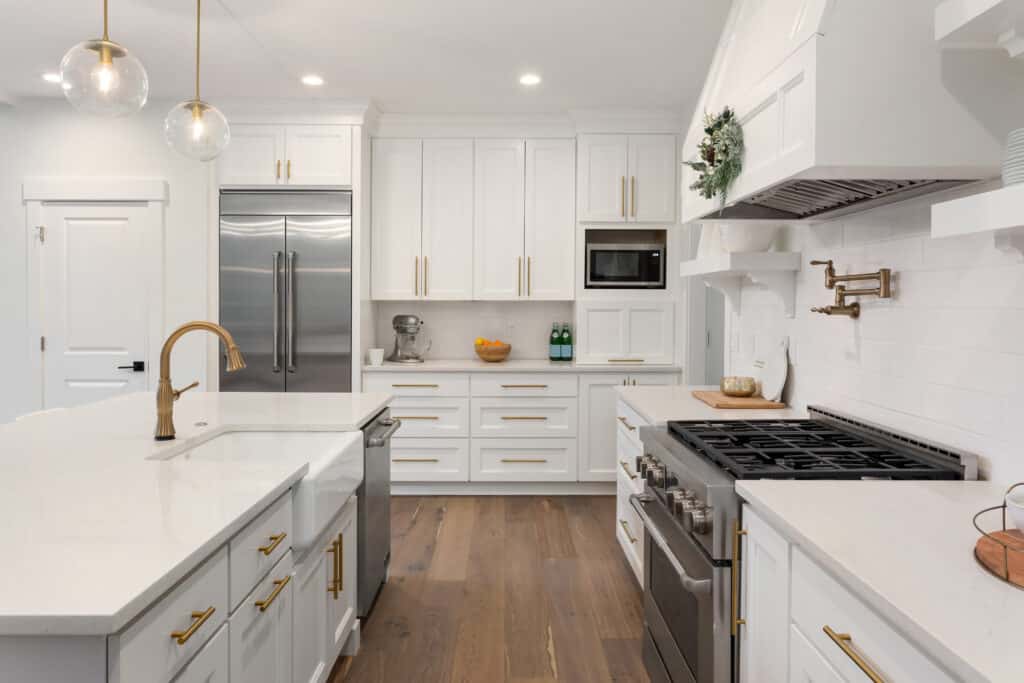 Trends to avoid in 2023
Open shelves
Open shelves were a trendy kitchen cabinet option for a while. However, they are not so popular today. Open shelves are also not suitable for storing small or fragile items like china or glassware because open sides allow dust particles easy access to them. It might scratch delicate surfaces and break fragile pieces into smaller pieces that need more care when cleaning them up after use.
All white kitchen cabinets
While all-white kitchen cabinets might work in some places or some kitchens, they are only an option for some. White cabinets are too bright and harsh. They lack the warmth of wood kitchen cabinets or dark colors, making them feel cold and clinical in the kitchen.
Bright brass
Brass is a softer metal and can scratch easily. It's also more susceptible to tarnish and corrosion; suppose you live in an area with high humidity, brass will eventually turn yellow or green. Also, brass is more expensive than other materials like stainless steel or copper.
Top trending kitchen cabinet styles expected in 2023
Natural materials
The top choices for natural materials for your kitchen cabinets are:
Natural materials like bamboo and wicker are also popular. They are beautiful, durable, and easy to clean.
Simple cabinets with decorative kitchen handle
To add interest to your kitchen, try using different sizes and shapes. Combining small, medium, and large cabinets is a fantastic way to make the most of your space. You can also use other materials for the handles, such as wood or metal. Another idea is to use different finishes on the handles, like satin nickel or oil-rubbed bronze, which will give a rustic look and shine!
Cabinets that reach the ceiling top
For the most part, kitchen cabinets are designed to be as sleek and minimal as possible. This means that when you have a tall kitchen with ceiling height, it makes sense to use taller cabinets that reach up to the ceiling top.
At the same time, some homeowners may want their pantry shelving units to remain low enough so that children can reach them easily when they need something. These considerations will help determine how much extra room your pantry needs versus its current size.
Hidden pantries
The hidden pantry is a trend that has continued to achieve popularity over the last few years. It's not just for those with smaller homes, either. It can be used as an extra kitchen cupboard space for storing items like canned goods and boxes of cereal.
The placement of the hidden pantry varies depending on your style and needs. Some people prefer it on the side of their kitchen cabinets, and others prefer to have it in front of them near where they cook.
Top trending kitchen cabinet hardware
Pull handles over knobs
Pull handles over knobs have been around since the beginning, but they're still popular. If you want a traditional look, this is the way to go. Knob-style handles are easier to use than pull knobs because they can be used on both sides of the door and all doors.
They also tend to be more durable than their handleless counterparts. They don't break off easily when people slam them shut!
Colors/ finishes
The color of your kitchen cabinet hardware depends on the color and aesthetics of your kitchen. However, some specific colours and finishes are in trend right now. One of them is the black finish. You can get it either in satin or matte. Other options include gold, brass polished or brushed, copper, or oil-rubbed bronze. If you opt for custom kitchen cabinets, you will have even more options.
Brass
Brass is a durable metal that can be used for both interior and exterior doors. It's also an affordable material that's easy to work with, so you won't have to worry about damaging or breaking it while installing your kitchen cabinet handles. If you're looking for something rustic, brass is a perfect choice. However, whether or not they will go in your kitchen depends on the theme, style, and overall approach you want.
Oversized handles
Oversized handles are a great way to make your kitchen cabinets unique. They can create balance in a room and give it symmetry by using one handle on each side of the door. You can also use them to highlight specific features of your kitchen.
Kitchen cabinets are more than just a place to store your dishes and pots. They can be an elegant focal point in any home and have evolved over time with trends in kitchen design, materials, and finishes. The elements you choose will significantly impact how the kitchen looks. So, it's essential to consider all options before deciding what type of finish would work best for your space.