A half bath, also known as a powder room, is a small bathroom in a house. You may not, but your guests might use this space often. In this article, Lancaster Customs discusses Ashlyn Brooks's six tips on creating the perfect half bath. (Source: Forbes, 6 Ways To Make A Half bath Shine, by Ashlyn Brooks, December 6, 2022, https://www.forbes.com/home-improvement/bathroom/half-bath-ideas/ ).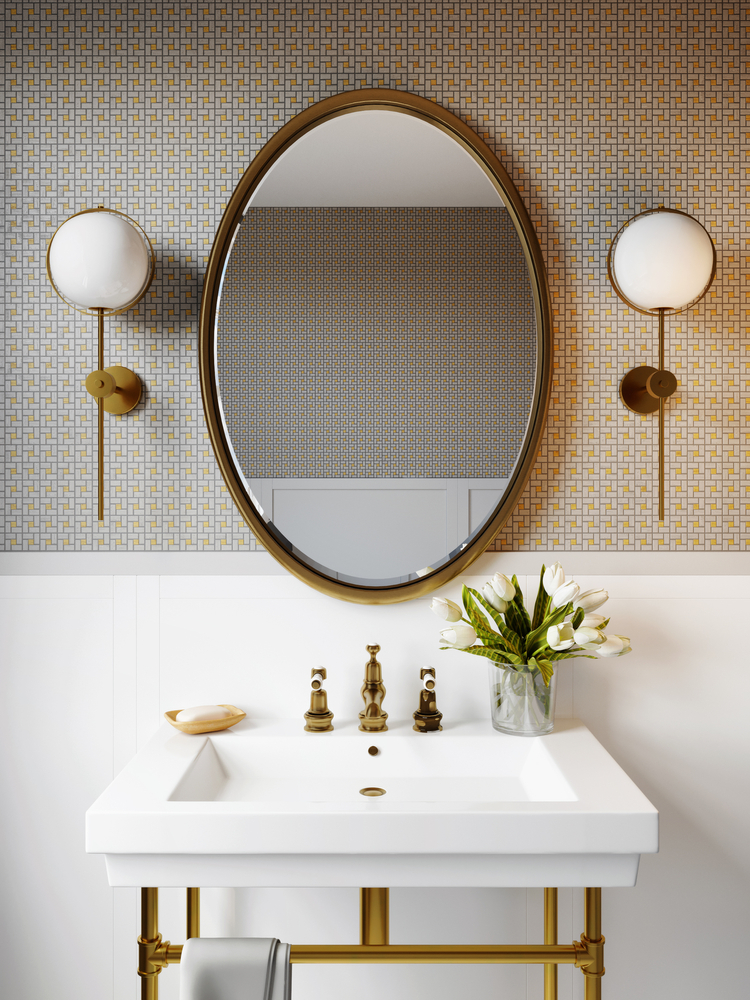 Simple & sophisticated
Ashlyn Brooks believes that keeping your half bath clutter-free by avoiding unnecessary items is important as it can make the space feel confusing. It's recommended to keep the essentials, such as a toilet, pedestal sink, and storage cabinet. Then add simple design elements around them to enhance the look and feel of the space.
Lancaster Customs agrees, "It is a good idea to keep a half bath simple for several reasons: limited space, easy maintenance, cost-effectiveness, and timeless design. A simple design with a neutral colour scheme, simple fixtures, and classic design elements can create a comfortable and functional space for guests and family to use."
Incorporate larger tiles
Ashlyn Brooks explains that using larger tiles in a smaller space can create an illusion of a larger room, whether it's just the floor or the whole half bath that's tiled. On the other hand, choosing smaller tiles for a small space may have the opposite effect, making your guests feel claustrophobic.
Lancaster Customs adds, "Using large tiles in a half bath can be a practical and visually appealing option that can make the space feel larger, more open, and easier to maintain."
Pick a neutral colour scheme
Ashlyn Brooks suggests that when dealing with a smaller half bath, choosing neutral and inviting colours is recommended. While a brighter accent wall is acceptable, avoiding darker colors is best. They can create an imposing vibe and make the space feel even smaller and more cramped.
Lancaster Customs says, "Using neutral colours in a half bath is recommended. They create a calming and relaxing atmosphere, make the space appear larger, are timeless and versatile, and allow for flexibility with accent colours and decor."
Make the best use of the space
Ashlyn Brooks emphasizes the importance of making the best use of the space. If your half bath is located in an odd nook or cranny of your house, it may require designing around awkward corners and angles. However, this can present a chance to showcase your creativity by using unusual spaces for unique built-in shelving or highlighting sharp angles as accent walls.
Lancaster Customs reiterates, "You have to explore the benefits of custom cabinets and custom-built vanity for your half bath. Custom cabinets and custom-built vanity can offer several advantages, including optimizing space, personalization options, quality, and durability, enhancing functionality, and increasing home value. Custom-built vanity and custom cabinets can be made into the specific dimensions of the half bath. It can help maximize storage space and also improve functionality.
Add quirky accessories
Ashlyn Brooks suggests adding a funky mirror. Lancaster Customs agrees, "Quirky accessories like a fun mirror or eclectic lighting can surely enhance the oomph factor of the half bath.
Flaunt your fixtures
Ashlyn Brooks advises that in order to add some flair to your half bath, consider colour-matching your accessories with your fixtures, such as cabinet handles, drawer pulls, faucets, and light housings.
Lancaster Customs says, "Choosing a bold colour can create a striking look that will impress your guests and give them something to talk about."
Lancaster Customs concludes, "Don't be afraid to think outside the box. Consider repurposing unique items such as vintage furniture or salvaged materials to create a one-of-a-kind look. You can create a half bath that is unique, stylish, and reflective of your personal taste and style."