When renovating or remodeling a space, it is essential to increase comfort, functionality, and the value of the home. However, during the excitement and design process, it is easy to overlook a few common areas. We are here to discuss the top three most often overlooked areas and which upgrades to consider to make those spaces pop and shine.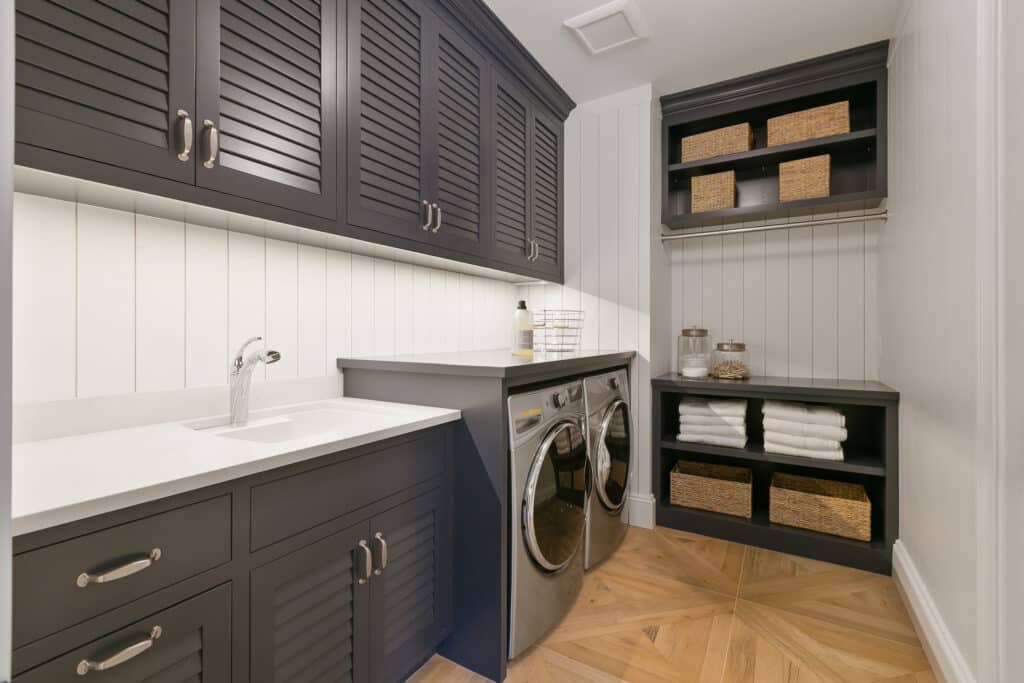 Laundry room
Very few people love doing laundry, which makes this room one of the rooms at the bottom of every renovation list. But upgrading a laundry room has numerous advantages, including:
it makes your home more appealing
improves future functionality
makes your home energy efficient
makes laundry easier
A number of upgrades can be added to your laundry room to make it efficient and beautiful, including:
Laundry cabinets
In 2022, taking the time to upgrade the laundry room has become as important as any other space in the house. Laundry room cabinets will help you stay organized and allows for additional storage. Depending on the area available, there are various types, like wall cabinets, base cabinets, and open shelves, to choose from. When considering renovations or remodeling, always consider the functionality of the space. Cabinets can be designed with pull-out boards, built-in drying racks, an ironing board pull-out, a section to store the steamer, and quality cabinetry to tuck the washer and dryer neatly.
Linen closet
Having a linen closet has several advantages:
putting laundry away becomes easier
items are easier to locate
the ability to be prepared for visitors becomes a quick process
easier to purchase linens or comforters for any season
Adding more storage
You can include extra storage, like pull-out shelves to store detergents, fabric conditioners, and similar items. Hiding items means more counter space!
Farmhouse sink
Itadds a retro feel to any space while being fashionable and practical. You can pair it with stunning gold fixtures and subway tiles. This sink is perfect for delicates.
New lighting fixtures
Proper lighting is crucial in a laundry room, as with any other room. Consider under cabinet and overhead lighting to avoid straining your eyes during tasks and chores.
Other upgrades you can make include drying racks, washable rugs, a seating area to make folding laundry easy, and hanging baskets for smaller items like single socks, buttons, sewing kits, and clothespins. You can also paint the room with warm and bright colors.
Spare bedrooms
Many overlook spare bedrooms and mainly convert them into storage space without any functionality. But spare bedrooms can be upgraded to a cozy guest bedroom or a multipurpose room with the addition of custom cabinets.
Add elegant bookshelves, table lamps, and cozy furniture to turn it into a library.
Add a vanity, a walk-in closet, and an oversized mirror to convert it into a beauty room or dressing room.
Add some meditation and workout gear to make it a home gym.
Convert it into a hobby and craft room.
Convert it into a kids' playroom.
Convert it into a home theater.
Basement
Upgrading a basement is usually an afterthought; some get left behind, while others only get the bare minimum upgrades. Renovating basements has several advantages:
It will increase your home's value.
Renovated basement with sufficient insulation reduces energy bills.
It can serve as a rental space, a guest room, an entertainment room, a playroom, or a theater.
It reduces problems like gas leaks, water leaks, and mold growth.
You can turn a basement into an extended living space by adding an entertainment area to host parties or relax with family and friends.
Install a custom entertainment unit or a tv wall unit to host movie and game nights. Also, include a game console and a quality sound system.
Repaint the basement and upgrade the floor to suit your aesthetics.
Choose furniture that goes well with the basement floor and wall.
Add a pool table, pinball machines, or equipment to enhance entertainment.
Add custom cabinets, shelves, and cubbies for ample storage.
Include a bar or wine cabinet to add sophistication.
Add an electric fireplace for both beauty and warmth.
In order to improve a home's overall aesthetic, it is essential to consider every area to turn a house into a sanctuary.