Inserts let you maximize the usable space in any storage space. Be it your kitchen, study, laundry room, or even workspace, inserts within a cabinet can bring essentials in hand quickly without bending down and scrummaging through drawers and shelves. Pair inserts with custom cabinets, and you can transform literally any nook and cranny into a usable space and add much-needed storage. Custom kitchen cabinets, laundry cabinets, and closets with inserts are valuable additions for any size home.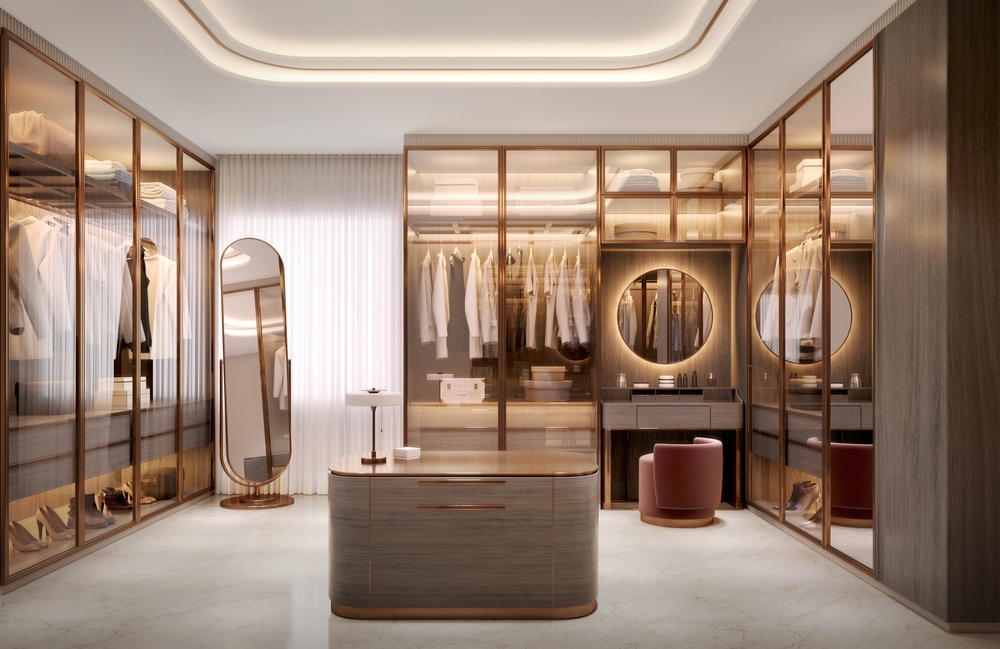 A unique twist on pull-out drawers in the kitchen
Thinkkitchen design and the first thought that might pop into your mind is improving drawer space. Forget the typical drawers under the kitchen slab motif and think inserts. A pull-out chopping station right under the slab that houses trash bins underneath, out of sight, is a great way to utilize this space. All you need is custom kitchen cabinets designed to fit this space with the right kind of inserts.
Another great pull-out idea for your kitchen design is a recipe book niche alongside your spice rack right above your cooking space. The insert design keeps it out of the way until you need it. Yet it stays instantly accessible if you want to experiment with spices during a cooking session with a brand new recipe.
Your typical kitchen design usually has limited provision for larger containers. That means you end up stacking them on your shelves, consuming too much space. Pushing big containers into an extension drawer is a simple way to leave shelves for stuff you need ready and quick access to. Your bulk ingredients can go under your work area. This is an excellent way for bakers to utilize the space with well-thought-out custom kitchen cabinets.
Multipurpose and multifunctional laundry room
Laundry rooms can tuck away plenty of odds and ends and transform into a little nook for getting a number of things done. Just design plenty of storage space with the laundry cabinets, using inserts to make even the furthest corners viable for storage.
Custom cabinets with inserts are perfect for putting away essentials like DIY tools in your laundry room. You can use this space as an impromptu workshop for quick fixes. Or maybe use a pull-out cabinet to store all your gift-wrapping needs and use the laundry table as your wrapping station. You can even add a retail store-like rack where you keep your tape, scissors, and ribbons. All you need is well-designed laundry cabinets that can double up as storage for other things as well.
If you find yourself needing barely half of your laundry room for your actual laundry, think of using the rest of the space for other functions. You can double it up as your workspace or a reading nook. Add a pull-out desk under a built-in custom cabinet. Put in drawers or cubby holes for storing away small critical objects like keys or your phone. You can even make this your message board area where you communicate essential things to other family members.
The smallest space, even between your laundry table and door, can take a vertical series of draw-out shelves for storing freshly laundered clothes or laundry supplies.
Fabulous walk-in closet inserts
Walk-in closets are the stuff that dreams are made of when designed well. The iconic pull-out iron board idea is a much-loved addition when you are figuring out a closet design for this space. But what about a pull-out full-length mirror here that lets you check your look as your dress up?
A simple closet design can also include a little closet island that doubles up as storage space for trinkets, jewelry, watch collection, etc. while offering a place to put down chosen clothes while you look for the rest of your ensemble. You could even have a pull-out island that pops out from under the ironing board if you design your custom cabinets to accommodate it all.
Be it closet design or kitchen/laundry room cabinet design, creativity can maximize both functionality and utility of any space, no matter how small. Custom design is often the way to go when you want unique ideas incorporated into your home design. Our experts at Lancaster Customs can help you figure out the best custom cabinet design for maximum aesthetic and functional impact.