The kitchen serves as the centerpiece of numerous households, where everyone gathers to cook, eat, and socialize. As such, creating a practical and stylish kitchen design is important. A well-designed kitchen enhances the pleasure of cooking and entertaining and adds value to your home. Whether you are a homeowner considering kitchen renovations or a professional working with clients, understanding the latest trends and design options can help you create the perfect space. As such, it's important to design a functional but aesthetically pleasing kitchen. However, not all kitchen design trends are created equal. In fact, there are certain ones that you should completely steer clear of. Here are the top five kitchen trends to avoid: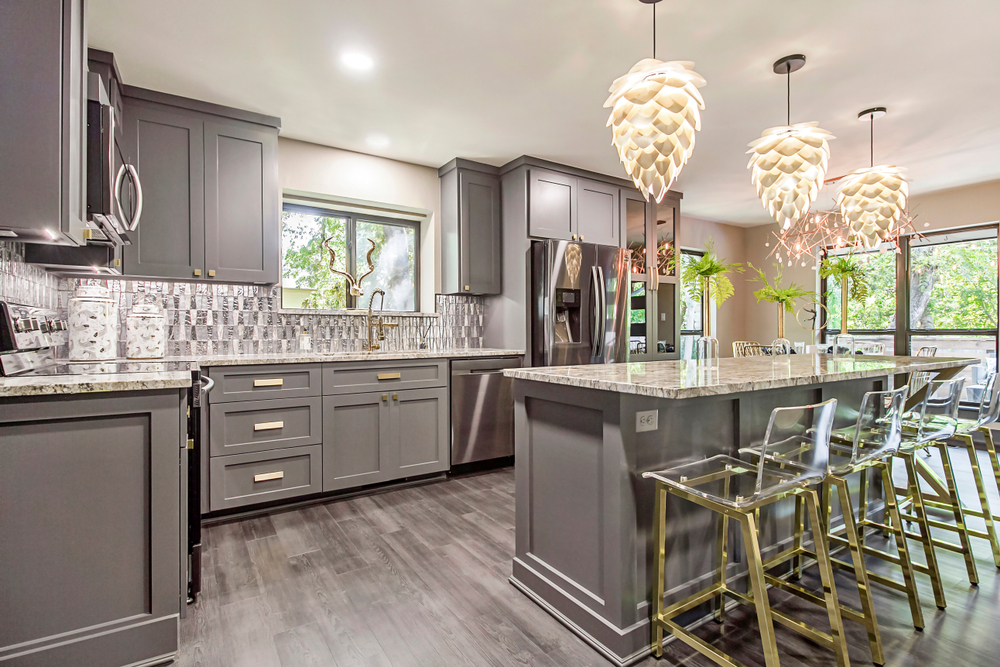 Over-the-Top Kitchen Cabinets
While kitchen cabinets are essential for storage, too much of a good thing can sometimes feel overwhelming, it may even overpower other interior design aspects of the home. Over-the-top kitchen cabinets with ornate designs and intricate details may look impressive; however, they can make your kitchen feel cluttered and cramped. Instead, opt for clean and simple cabinet designs that provide ample storage without overpowering the room. Custom kitchen cabinets are a superb decision as they are made to perfectly match the dimensions of your kitchen while reflecting your unique style.
All-White Kitchens
The all-white kitchen trend has been popular for several years now, but it's time to move on. While a white kitchen can look sleek and modern, it can also appear sterile and cold. Instead of going all-white, consider adding some pops of colour or unique texture to your kitchen design. You can achieve this by incorporating colorful tiles, natural wood finishes, or statement light fixtures.
Bold and bright colours
One top kitchen trend to avoid is using bold, bright colours on all cabinetry and countertops. While a pop of colour in the kitchen can be fun and playful, using too much colour can be overwhelming and make the space feel smaller. Instead, opting for a more neutral colour palette that can truly endure the test of time is recommended. Using bold colours on all cabinetry and countertops can be avoided by choosing a neutral base colour for the cabinets and countertops, such as white, beige, or gray. This provides a timeless foundation that can be accented with pops of colour in smaller, more easily changeable elements like backsplashes, decorative objects, and accessories.
Natural materials, including wood, stone, and concrete, are better substitutes for using bold colours on all cabinetry and countertops. These materials can provide texture and interest to the kitchen without relying solely on colour. Natural materials can also create a warm and inviting atmosphere in the kitchen, making it a more comfortable and enjoyable space.
For example, consider using custom wood cabinets or a stone backsplash to add visual interest and texture to your kitchen design. These natural elements will bring warmth and depth to your space while providing a neutral base for more playful accent colours.
While bold and bright colours may seem like a fun choice for kitchen design, they can overwhelm a space and make it feel smaller. By opting for a more neutral colour palette and incorporating natural materials, you have the ability to create a timeless and inviting kitchen that will stand the test of time.
Industrial-Style Kitchens
Industrial-style kitchens may have been popular a few years ago, but they're not ideal for everyone. Exposed brick walls, metal accents, and raw materials characterize the industrial look. While this can look cool in a loft or an industrial space, it can look out of place in a suburban home. Instead of going full industrial, consider incorporating industrial elements into a more traditional kitchen design. For example, you could add metal pendant lights or a stainless steel range hood.
Ornate Backsplashes
While a backsplash can add a pop of colour or texture to your kitchen, an ornate backsplash can be overwhelming. Backsplashes with intricate designs or bold patterns can make your kitchen look dated and busy. Instead, opt for a simple and classic backsplash design. A subway tile backsplash is always a safe and stylish choice, and it pairs well with almost any kitchen design.
When it comes to kitchen design, custom kitchen cabinets are always a good choice. Custom cabinets are crafted specifically for your space, ensuring that they fit perfectly and provide ample storage. Additionally, custom cabinets are timeless because they're tailored to your unique style and needs. They're an investment that will pay off for years to come.
If you're considering custom kitchen cabinets, here are some tips to keep in mind:
Choose high-quality materials. Custom cabinets are an investment, so you want to ensure they're built to last. Choose high-quality materials, such as solid wood or hardwood plywood.
Consider the details. Custom cabinets allow you to add personalized details, such as glass inserts, pull-out shelves, or hidden storage.
Think about functionality. Your cabinets should not only look good but also be functional. Consider your storage needs and how you use your kitchen when designing your cabinets.
Don't skimp on hardware. Hardware is a small detail that can significantly impact your kitchen design. Choose hardware that is complementary to the style of your fixtures and cabinet. It will add a final touch of elegance to your kitchen.
Work with a professional. Work with a professional designer or cabinet maker to ensure your cabinets are designed and built to the highest standards.
In addition to custom cabinets, many interior design options can elevate your kitchen design. For example, adding a statement light fixture can draw the eye upward. This can also add a touch of drama to your kitchen. Alternatively, adding a kitchen island can provide additional storage and counter space while also creating a focal point in your kitchen.
When it comes to kitchen design, it's essential to balance form and function. While trendy designs may look appealing, they may not be practical for everyday use. By choosing classic and timeless design elements, such as custom cabinets, you can create a functional and practical kitchen.
In conclusion, as architects, interior designers, and real estate agents, you understand the importance of designing a functional and aesthetically pleasing kitchen. While there are many kitchen design trends, some should be avoided at all costs. You can create a timeless and functional kitchen by avoiding over-the-top kitchen cabinets, all-white kitchens, open shelving, industrial-style kitchens, and ornate backsplashes.
Custom kitchen cabinets are a great choice for anyone looking to elevate their kitchen design. By choosing high-quality materials, considering the details, thinking about functionality, investing in hardware, and working with a professional, you can create custom cabinets that reflect your unique style and needs. You can create a practical and beautiful kitchen by balancing form and function and choosing classic and timeless design elements.